Lake Sturgeon Alert

We are seeing more Lake Sturgeon in Illinois waters. Anglers need to be aware that the Lake Sturgeon is a state-endangered species and protected by law. The Lake Sturgeon may not be harvested by any means in the state of Illinois. If one is caught, it must be released immediately.
Anglers are most likely to encounter Lake Sturgeon in the big rivers and Lake Michigan where they spend most of their lives. However, they may also be found in smaller rivers and streams in early spring when they migrate to spawn as flows increase and water temperatures begin to warm. These spawning activities make Lake Sturgeon highly susceptible to angling pressure, especially in the churning waters in the tailwaters of several dams.
The increase of Lake Sturgeon numbers in Illinois waters is the result of stocking efforts in Missouri and Wisconsin by the U.S. Fish and Wildlife Service and Missouri Department of Conservation. Over 485,000 have been stocked since efforts began in the 1980s. Increased sightings in Illinois are a sign that these efforts have been successful.
Stocked fish have been tagged or marked in various ways. A picture of your catch with location information and numbers from any visible tags prior to immediate release can be reported to the Illinois Department of Natural Resources, Division of Fisheries to help assist biologists with the management of the species.
Lake Sturgeon are slow to reach maturity, taking 15–20 years and only spawn every 4–7 years thereafter. Natural spawning events in Illinois are still a rare occurrence, however, a successful spawning event was documented in the Mississippi River near Alton in recent years.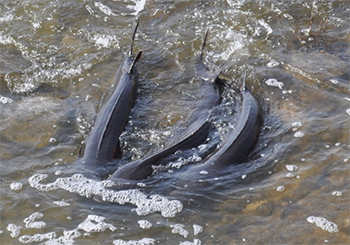 Lake Sturgeon are one of three species of sturgeon found in Illinois waters. Lake Sturgeon are more torpedo-shaped with a rounded snout and by far the largest of the three species. Lake Sturgeon can live to be over 150 years old and reach sizes up to 8 feet long and 300 pounds. Pallid Sturgeon are also protected as endangered species at the state and federal level. Pallid Sturgeon can live over 40 years and reach a size of 5 feet long and 65 pounds. The third species is the Shovelnose Sturgeon, which is pictured below. There is a regulated commercial fishery in designated waters for Shovelnose Sturgeon in Illinois. Shovelnose Sturgeon is the smallest of the three species, living over 20 years and rarely reaching sizes over 30 inches and 5 pounds.
The infographic by Kansas Wildlife and Parks found here is an excellent source for characteristics to help identify the species.
Picture at rigth: Spawning Lake Sturgeon in Wisconsin (photo credit Rob Elliott, USFWS)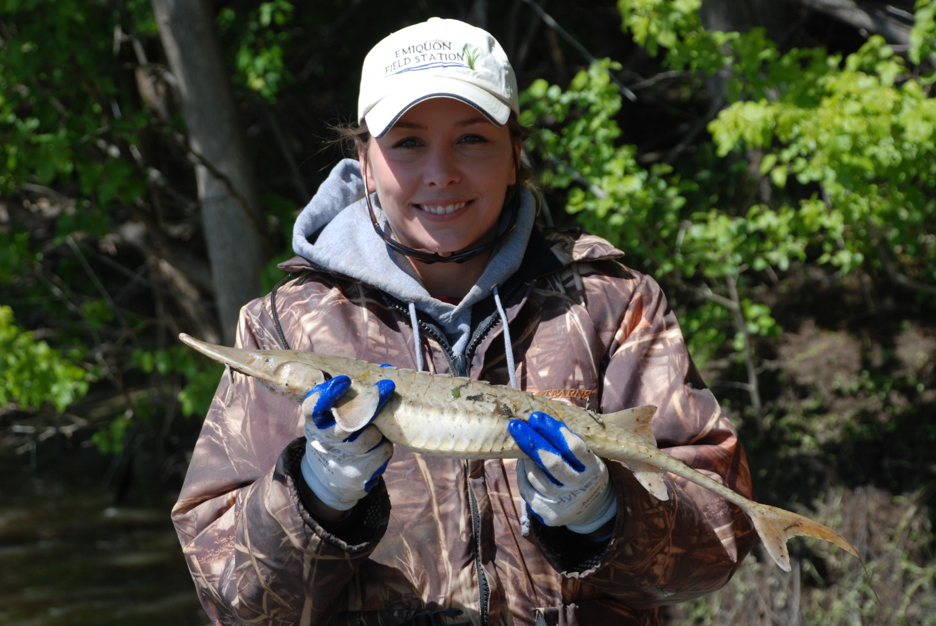 Nerissa McClelland, IDNR Illinois River Biologist, with a Shovelnose Sturgeon.