LITTLE GRASSY FISH HATCHERY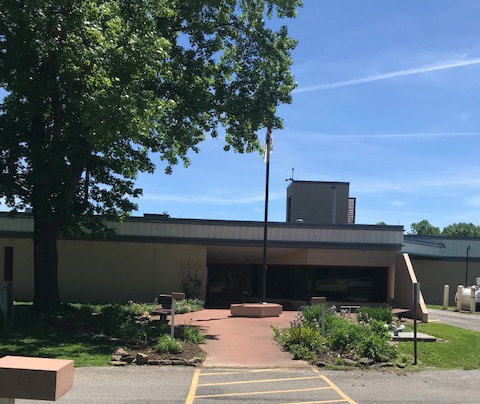 1258 Hatchery Lane
Makanda, IL 62958
(618) 529-4100
Hours: Monday – Friday, 8:00 AM – 3:00 PM
(Closed on the observation of state holidays October – February)
Directions: https://goo.gl/maps/7gKoDDnkDPjPmuF46
LOCATION
Located just north of Little Grassy Lake, this 115-acre hatchery site is operated by the Department of Natural Resources – Division of Fisheries for the state of Illinois. The hatchery, which is eight miles south of Carbondale and Southern Illinois University, is surrounded by the Crab Orchard National Wildlife Refuge and numerous state parks and natural areas. An abundance of fishing waters, outdoor recreation and natural beauty can be found throughout the surrounding area. Campers can enjoy spacious campgrounds at several nearby state and federal sites, while wildlife watchers can marvel at the diversity of birdlife found during spring and fall migration. Hunters can find great deer, waterfowl and turkey hunting opportunities at many nearby public sites, while anglers can enjoy excellent sunfish action on Little Grassy Lake, catches of crappie on Crab Orchard and inland rainbow trout in the depths of Devil's Kitchen.
HISTORY
Established in 1959, Little Grassy Fish Hatchery continues its role as an important component of the Illinois Fish Hatchery System. The location of the hatchery was selected so that high quality water from nearby Little Grassy Lake could serve as the major water source for hatchery operations. The hatchery is 90 feet lower than the lake, which allows for gravity flow of the nearly 5,000 gallons of water per minute necessary to keep operations running during peak production. The original hatchery facility was a simple, small concrete block building. Ten outdoor ponds completed the complex. In 1962 an expansion phase added a shop building and reconfigured the ponds, resulting in 18 earthen ponds.
To meet angler demand for increased numbers and additional species of sportfish, a major expansion and renovation of little Grassy Fish Hatchery began in 1979. The result was a 14,000 square foot hatchery building complete with offices, observation deck, visitor lobby, incubation room (room with structures and equipment to incubate fish eggs), and indoor rearing tanks.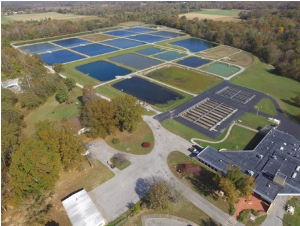 A total of 18 outdoor rearing and spawning raceways (long tanks that water flows through continuously during use) were constructed. The earthen ponds were reconfigured, resulting in 21 ponds totaling 19 acres of water. Indoor fish rearing facilities were also constructed, consisting of 20 start tanks, two large incubation racks capable of housing 120 incubation jars each, and 24 circular and other rearing tanks. A four-stage water treatment system was added to ensure proper treatment of water before discharge.
PRODUCTION
Little Grassy Fish Hatchery is primarily a warm-water fish hatchery. This is due to the water source used to run the hatchery — namely, Little Grassy Lake. Although the lake temperature does reach cold temperatures in the winter, it does not remain cold for an extended period of time. This fact disallows for the production of cold water species (salmon and trout). Historically, Little Grassy Fish Hatchery had hatched and reared cool water species (walleye, muskie), but now the hatchery concentrates on warm water fish. Black Crappie, Largemouth Bass, Redear Sunfish, Bluegill, Blue Catfish, and Channel Catfish are currently being hatched and/or reared at Little Grassy Fish Hatchery
Both intensive and extensive culture methods are employed at Little Grassy. Intensive culture involves flowing oxygenated water through hatching jars, troughs, start tanks, or raceways that contain high densities of eggs, fry, fingerlings, or non-vulnerable fish. The flow-through water is necessary to ensure the development and survival of such high densities of fish in relatively small areas. Extensive culture involves utilizing earthen ponds for spawning and rearing. This is a more "natural" environment for the fish, while the number of fish per pond and feeding can still be closely monitored to ensure proper development. Naturally occurring food supplies (plankton and insects) are utilized, as well as supplemental food sources (minnows and commercial fish food).
The channel catfish production at Little Grassy Fish Hatchery is the event that attracts visitors to the hatchery every June. Little Grassy fish Hatchery produces all of the non-vulnerable (8 inch) channel catfish for public water stockings statewide. The adult brood catfish are placed into outdoor spawning cubicles and provided an appropriate nesting site (milk cans). The spawn is typically triggered by rising water temperature, among other variables, and peaks when water temperatures reach approximately 80° Fahrenheit. The female catfish deposit their eggs in the milk cans; the males fertilize the eggs and stand guard inside the milk can. The hatchery technicians then collect the eggs from the can. The eggs are brought inside the facility where they are separated, enumerated and placed into incubation jars. The eggs take approximately six days to hatch in the hatching jars. They are then removed from the jars and placed into start troughs where the fry will absorb their yolk sacs and develop into fully formed channel catfish in about a week. The young fry are then started on high protein powdered food and allowed to feed and grow for up to three weeks. At this stage the young channel catfish are move outdoors to ponds where they have more space to grow and continue to feed on high protein pelleted food. By late fall, the water temperature will drop low enough to cause the catfish to stop feeding and will overwinter in the ponds. The following spring, the catfish are moved from the ponds to the outdoor concrete raceways. As the water temperature warms, appetite increases. The increased food supply coupled with much warmer water temperature ensures rapid growth in the catfish, and by June the fish begin to reach the non-vulnerable size (8 inches). At this point, catfish are stocked out into lakes throughout the entire state of Illinois. It will take several months to distribute the 200,000 to 400,000 channel catfish to approximately 250 lakes.
In addition to channel catfish, Little Grassy also rears the increasingly popular Blue Catfish, which are stocked in select waters across Illinois, including many of the state's cooling lakes. For many years, Blue Catfish fry were obtained from other state hatcheries, but Little Grassy is currently working on starting their own spawning program (similar to the channel catfish program) that should supply all of their blue catfish needs in future years. Blue Catfish fry are reared in earthen ponds and fed prepared diets. A typical production year results in around 70,000 four-inch fish.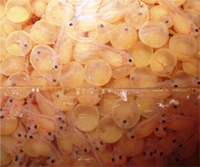 Largemouth bass are now produced solely in production ponds. Historically, Largemouth Bass were placed into spawning cubicles with an artificial nesting site and allowed to spawn. The eggs were then collected and hatched in incubation jars. Current pond production requires that the young fry be seined away from the adult bass to avoid predation. The young fry are stocked into hatchery ponds to be grown out to fingerling (1–3 inch) or advanced fingerling (4–6 inch) size. Fingerling Largemouth Bass are stocked in public waterbodies, as well as at numerous nursery ponds associated with major lakes. It is in the nursery ponds where the young bass fry feed and grow quickly, becoming large enough to be introduced into the main lake. Fish that are to be grown to the advanced fingerling size are fed minnows until ready to be stocked in public waterbodies.
Bluegill, Redear Sunfish, and Black Crappie production is achieved through extensive culture. Adult brood stock are placed into production ponds and allowed to spawn. The young of the year fish are allowed to feed and grow until late summer/early fall when they are harvested and stocked into lakes as fingerlings (1-3 inch).
SPECIES
Little Grassy currently rears 6 species of warm water fish.
Warm water species:
SERVICES
Little Grassy Fish Hatchery is currently open to the public Monday – Friday from 8:00 a.m. to 3:00 p.m. Walk-in visitors as well as scheduled groups are welcome. At this time guided tours are only available Monday through Friday; it is recommended to call ahead to schedule a tour. Scheduled educational tours can be adjusted to better suit the needs of visitors. Little Grassy Fish Hatchery is closed on weekends September – March and on state holidays that fall in the months of October – February.
The hatchery does not sell fish to the public; however, hatchery staff may be able to assist with stocking-related inquiries. Information about private fish dealers can be found at https://www.ifishillinois.org/programs/fish_dealers.pdf. Information about private pond management can also be found at https://www.ifishillinois.org/programs/aquatic_mgmt.html. For further information about private pond management, you can contact your district fisheries biologist at : https://www.ifishillinois.org/FAQS/biologists.html.
For hatchery information and/or tour reservations, please call 618-529-4100