LASALLE FISH HATCHERY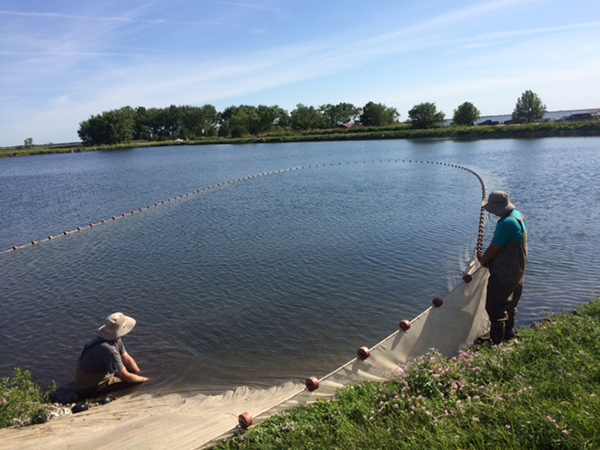 2649 N 21st Road
Marseilles, IL 61341
(815) 357-6986
Hours: Daily, 8:30 am – 3:30 pm (Public visitations are limited; please call ahead if planning a visit.)
Directions: https://goo.gl/maps/Xzufo6bcQkvFWPfFA
LOCATION
LaSalle hatchery is located in LaSalle county, five miles south of Marseilles, IL. The 40-acre site sits adjacent to Exelon Corporation's LaSalle Nuclear Power Plant. Located in the Illinois River Valley, LaSalle is only 20 miles from some of Illinois' most popular state parks, including Mathiessen and Starved Rock. Hikers, campers and bikers can also enjoy the scenic trails at the nearby Illini and Buffalo Rock State Parks. Anglers can also find a world-class walleye and sauger fishery on the Illinois River and tangle with hybrid striper and blue catfish on the LaSalle Cooling Lake.
HISTORY
The LaSalle Fish Hatchery was acquired by the Illinois Department of Conservation, which later became the Illinois Department of Natural Resources, in the spring of 1994. The hatchery was previously operated by Southern Illinois University-Carbondale as a research/hatchery facility. Despite being the smallest of the three state hatcheries, LaSalle produces the most fish annually.
PRODUCTION
The LaSalle facility features 16 large earthen ponds ranging in size from 1.5 to 2.5 acres, two hatchery buildings and an office trailer. The water for the facility's earthen ponds is a forced supply from the adjacent LaSalle Cooling Lake. The hatchery buildings include storage for hatchery equipment, a ground water well supply (80 gallons per minute), fish holding tanks, laboratory space and a garage area.
LaSalle utilizes both intensive and extensive culture techniques for fish rearing. Extensive culture uses natural food in a pond (such as plankton and minnows) to produce fingerling fish. Adult panfish, including Bluegill and Redear Sunfish, reproduce naturally in the earthen ponds. Some of the species reared at LaSalle are provided by other hatcheries. Juvenile hybrid striped bass are brought in from Arkansas, while Largemouth and Smallmouth Bass are provided by Jake Wolf Memorial Fish Hatchery. These fish arrive at less than an inch long and are grown in outdoor ponds for late spring and summer stockings.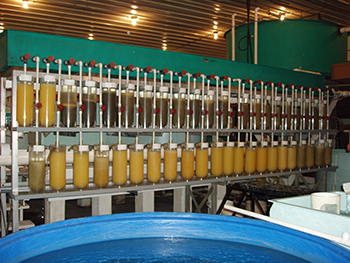 Cool water fish, including Sauger, saugeye and Walleye, are reared using a combination of extensive and intensive methods. Intensive culture allows the rearing of large numbers of fish in a small area and results in a more predictable production. Inside the hatchery buildings, rows of Macdonald hatching jars accommodate up to 1 million Sauger eggs and 500,00 walleye eggs each! Fry spend a brief period in indoor start tanks and are transferred to outdoor ponds. The fry are stocked at 150,000 fry/acre in the hatchery ponds and begin feeding on zooplankton in the ponds soon after stocking. Within 40 days, fry can reach lengths of 1.5 inches.
The culture season at LaSalle typically begins in April with the collection of adult sauger at fishing tournaments on the Illinois River. The adult Sauger are collected after angling teams weigh their catch and are placed in hatchery trucks for transport. Biologists collect adult walleye by electrofishing the Fox Chain O'Lakes and Kankakee River. The adult fish are transported back to the hatchery, separated, and either spawned immediately or held until adult female fish are ready to spawn.
LaSalle is an extremely important component of the Illinois hatchery system as it hatches all of the Walleye, sauger and saugeye stocked in Illinois. Some of these young fish are transferred to Jake Wolf for eventual stocking in Central and Southern Illinois. Due to the popularity of walleye and Sauger and high stocking demands, LaSalle can produce over 20 million of these fish each year! While these fish are stocked throughout the state, the majority of Sauger are stocked in the Illinois River and Walleye in the Fox Chain O'Lakes. Since the hatchery was acquired in 1994, a total of 563,360,756 fish have been produced for stocking or transferred to other state sites, for an average of 21.7 million fish per year.
SPECIES
LaSalle hatchery currently rears 8 species of cool and warm water fish.
Cool water species:
Warm water species:
SERVICES
LaSalle hatchery offers many services to Illinois anglers and the general public. In addition to annual stocking efforts, staff may also be available to participate in community programs and angling events upon request. Due to the site's location on Exelon property, tours and visits are limited. Tours are suggested in April when adult broodfish, eggs and fry are onsite. The hatchery does not sell fish to the public; however, hatchery staff may be able to assist with stocking related inquiries.
The hatchery does not sell fish to the public; however, hatchery staff may be able to assist with stocking-related inquiries. Information about private fish dealers can be found at https://www.ifishillinois.org/programs/fish_dealers.pdf. Information about private pond management can also be found at https://www.ifishillinois.org/programs/aquatic_mgmt.html. For further information about private pond management, you can contact your district fisheries biologist at : https://www.ifishillinois.org/FAQS/biologists.html.
For hatchery information and/or tour reservations, please call (815) 357- 6986.