HORSESHOE LAKE - MADISON
Lake Information

County: Madison
Acreage: 2107
Recreational Amenities
Boat Fishing? 50hp
Boat Ramps? Yes
Boat Rental? No
Skiing? No
Swimming? No
Picnicking? Yes
Camping? Yes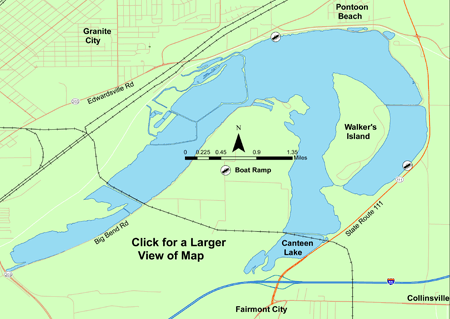 Click on area names for a more detailed map.
Canteen, Walker's Island
Maps are not intended for navigation.
There are no zebra mussels in this lake.
Fish Stocking

Year

Species

Size

Count

2020

Channel Catfish

Advanced Fingerling 4 - 7"

80225
Additional information for stocking on HORSESHOE LAKE - MADISON
Location: Horseshoe Lake is located near Granite City on Highway 111 just south of Horseshoe Lake Road.
Description: This 2107-acre lake is a very old floodplain lake created by an abandoned river channel. The lake is shallow with average depths of 3-5 feet. It maintains a connection with the Mississippi River through drainage ditches. Therefore, the lake supports a very diverse fishery. Besides the common sport fish the lake is home to carp, buffalo, drum, gar, and bowfin. The main boat ramp is on the north shore of the lake inside the park. Shore angler access is available at many areas around the lake and there is a 50 hp limit for boat motors.
History and Status of the Sport Fishery: The IDNR Division of Fisheries routinely monitors the status of the fishery of Horseshoe Lake.
Additional Lake Information: There is a 50 hp limit for boat motors. 2 Pole and Line fishing only. Bow Fishing is permitted. Trotlines are permitted within 300 feet of shoreline. Swimming, wading, and waterskiing are prohibited.
Contact Information: Horseshoe Lake State Park 618- 931-0270IDNR Fisheries Biologist, Fred Cronin618-931-4217