MAZONIA LAKES - SOUTH UNIT
Lake Information
County: GRUNDY
Acreage: 30
Recreational Amenities
Boat Fishing? Yes
Boat Ramps? Yes
Boat Rental? No
Skiing? No
Swimming? No
Camping? No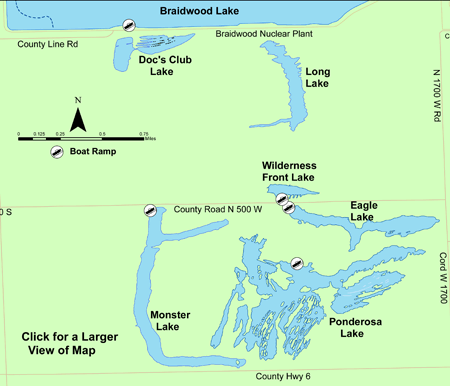 Click on area names for a more detailed map.
Long Lake, Eagle Lake, Ponderosa Lake,
Doc's Club Lake, Monster Lake
Maps are not intended for navigation.
For individual Mazonia South lakes information click the links below:
There are no zebra mussels in this lake.
Fishing Outlook ( Full PDF Report )
Click here for a list of all reports.
Species

Rank

Fish Status

Fair

The Ponderosa Lake bluegill fishery appears to be showing signs of heavy fishing pressure as population parameters were in decline for the 2014 survey.

Good

This species is present in most all of the larger water areas with densities greatest in lakes receiving annual supplemental stockings.

Very Good

Although both white and black crappies are present in the Mazonia impoundments, white crappie are the more common of the two. White crappie collected in the 2014 spring surveys on Bass and Monster Lakes had comparable average lengths which approached 9.5". Prevalent in most all lakes and ponds, crappies provide much of the early spring action. Crappies are regularly caught through the ice as well.

Average

Flathead catfish are present in Monster Lake and can be caught near the Granary Creek cut-off.

Good

Monster, Eagle and Ponderosa Lakes were surveyed with Monster Lake providing the best bass population per the 2014 fall survey results. Bigger bass are taken each year by anglers targeting the more remote, harder to get to lakes and ponds.

Poor

The current state record northern pike was caught from Monster Lake. Larger fish are present in some of the south unit lakes, holdovers from when these lakes were leased by private fishing clubs.

Good

Although present in several of the Mazonia lakes, Ponderosa supports the best population of redear sunfish. In the most recent trap net survey, redear sunfish dominated the collection as a total of 48 were captured ranging from 6.7" to 11.7", averaging 9.9" and 12.5oz.
Location: The South Unit Mazonia Lakes, which includes the Ponderosa, Wilderness and Monster Lake areas, is located in Kankakee County north of County Highway 6 and west of the town of Essex.
Description: Mazonia State Fish and Wildlife Area consists of 2,679 acres of reclaimed strip-mine land which was purchased by the Illinois Department of Natural Resources (IDNR) from Commonwealth Edison Company. The initial purchase was made in 1986 and included the old "Pit 16" area. An additional 1,662-acre parcel, which formerly included areas managed by sportsman's clubs, was purchased in 1999. The entire area was once surface-mined by the Peabody Coal Company from 1951-1970. The area consists of over 200 impoundments ranging from less than 1/4 acre to nearly 150 acres. Most all of these water areas are typified by steep drop-offs and many have maximum depths in excess of 30 feet with some twice that. Shoreline access to most lakes and ponds is limited by extensive stands of tall reed grass.

The site is divided into a North and South Unit. Gravel ramps are present on the following South Unit lakes: Eagle, Ponderosa and Monster Lakes. "Belly boats" have become an effective and popular way of accessing and fishing the smaller interior ponds. Please see "Mazonia Lakes - North Unit" for information on fishing the North Unit.

Please see "Additional Lake Information" Below for site hours and regulations.

History and Status of the Sport Fishery: Habitat enhancement projects have been completed on many of these lakes and ponds. Aquatic vegetation, while present, has not required any active management. Most of the larger water areas contain largemouth bass, bluegill, white and black crappie, channel catfish, carp and various other species. The IDNR presently stocks channel catfish into several lakes on a rotational basis. Redear sunfish have been stocked into Clear Lake and Ponderosa Lake as well. Northern pike stockings into several lakes have generally failed. A walleye stocking program has been approved for Monster Lake with the initial stocking scheduled for 2015. No special mercury advisory or other contaminant-related consumption advisories pertain.
Additional Lake Information: Two pole and line fishing only, all other statewide regulations apply. Swimming is prohibited. Trolling motor only, except Monster and Ponderosa Lake, which allow gasoline outboards (no wake). With the exception of Monster Lake (which is open year-round), the remainder of the South Unit lakes and ponds close 10 days prior to the opening of the Central Zone Duck Season and reopen (7-days a week) after the season ends.
Contact Information: Mazonia/Braidwood State Fish & Wildlife Area 815-237-0063IDNR Fisheries Biologist, Seth Love630-360-4772