SARA, LAKE
Lake Information
County: Effingham
Acreage: 614
Recreational Amenities
Boat Fishing? Unrestricted
Boat Ramps? Yes
Boat Rental? Yes
Skiing? Yes
Swimming? Yes
Picnicking? Yes
Camping? Yes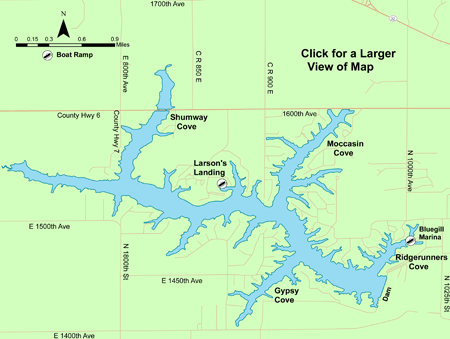 Click on area names for a more detailed map.
Gypsy Cove, Larson's Landing, Moccasin Cove, Ridgerunners Cove, Shumway Cove
Maps are not intended for navigation.
There are no zebra mussels in this lake.
Fish Stocking

Year

Species

Size

Count

2022

Channel Catfish

Non-vulnerable 8 - 10"

7000
Additional information for stocking on Sara, Lake
Fishing Outlook ( Full PDF Report )
Click here for a list of all reports.
Species

Rank

Fish Status

Poor

The size structure of the bluegill population remained poor. All of the bluegill collected in the sample were less than 7" in length. Body condition remained stable, but poor, and growth rates remained below average. The bluegill population in this lake will likely always be hindered by the presence of gizzard shad. Anglers can expect to catch an abundance of fish 5" – 7" in length.

Developing

Channel catfish numbers are low in Lake Sara due to low natural recruitment. Recent supplemental stocking may help to improve numbers in the coming years. In 2022, growth rates remained average and body condition was just above the lake target. Anglers can expect to see most fish in the 1 – 3-pound range, with some fish over 5 pounds.

Good

Both black and white crappie are present in Lake Sara, but white crappie are the dominant species. Data collected from the annual population survey indicated that 33% of the adult white crappie were greater than 10" in length and 55% were in the 8" – 10" size range. Average body condition for white crappie remained stable, but it was below the lake management plan target. Black crappie collected in 2022 also had poor body condition and all black crappie collected were less than 9.5" in length. Crappie fishing in the coming year should remain good with most fish weighing 0.2 – 0.5 pounds and a potential for an occasional larger fish near 1 pound.

Improving

In an attempt to improve the size structure of the population, regulations were changed in April 2017, to a 15" – 18" protected slot limit. Early results indicate that the regulation appears to be working. In 2022, the percentage of the adult bass in the sample over 15" was 21% and 4% exceeded 18". Bass over 15" were in good condition. Bass numbers below the slot remained high and body condition was still poor, but should improve with time and increased harvest. For 2023, the majority of bass below the slot should range from 0.5 – 1.5 pounds, while those exceeding 18" should be 3 pounds or greater. Harvest of bass below the slot limit (less than 15") is encouraged.

Fair

White bass numbers decreased slightly in 2022, but they remained abundant, and average body condition improved. Angling opportunities for white bass should be fair/good in 2023 with most larger fish between 10" – 14" long and weighing 0.6 – 1.1 pounds. Harvest of white bass in Lake Sara is encouraged.
Location: Lake Sara is located in Effingham County approximately 5 miles southwest of Effingham, Illinois.
Description: Lake Sara was constructed in 1957, and it has a surface area of 614 acres, a maximum depth of 47 feet, and a mean depth of 19 feet. The lake has 38 miles of shoreline and a watershed of 7,560 acres.
History and Status of the Sport Fishery: The sport fish population in Lake Sara is comprised primarily of largemouth bass, bluegill, redear sunfish, white and black crappies, white bass, and channel catfish. Other common species include yellow bullhead and common carp. The fish population is surveyed annually, and summaries below are based on the results of the most recent population survey and four-year trends in the population indices.
Additional Lake Information: Two pole and line fishing only. Boat permits are required and can be purchased at either of Lake Sara's two Marinas, the Mach 1 gas station on Rt. 33 West, or Lake Sara Marina in Effingham.

Site Regulation:
Largemouth bass: 6 fish daily limit, protected slot length limit of 15 – 18"
White, black, or hybrid crappie: 25 fish limit (collectively)
Contact Information: Lake Sara Water Authority 217-868-2787IDNR Fisheries Biologist, Boone LaHood618-393-6732
There were 52 tournaments held on this waterbody in 2022.
| | |
| --- | --- |
| Species | Total Fish Caught |
| Crappie | 223 |
| Largemouth Bass | 1740 |
Top 5 Largemouth Bass caught on this waterbody in 2022 tournaments:
1 7.78 lbs
2 7.22 lbs
3 6.89 lbs
4 6.61 lbs
5 6.42 lbs
Top 5 Total Tournament Weight of Largemouth Bass caught on this waterbody in 2022 tournaments:
| | |
| --- | --- |
| 1 | 220.19 lbs |
| 2 | 187.14 lbs |
| 3 | 178.83 lbs |
| 4 | 142.00 lbs |
| 5 | 133.81 lbs |
Multiple day tournaments are listed with * end date.
Interested in participating in one of these public tournaments? Contact us with tournament ID for more information.
2023 – 2024 Approved or Pending Tournaments
Start Date
ID
Approval
Ramp Location
Bank/Boat
Hook/Bow
Max Boats
Species
Youth?
Open to Public?
April-06

*

April-07

24995
Approved
Anthony Acres Ramp
boathook
50
Largemouth Bass

No
Yes
April-20
25246
Approved
Marina Ramp
boathook
25
Largemouth Bass

No
No
April-21
26093
Approved
Marina Ramp
boathook
35
Largemouth Bass
Smallmouth Bass

No
No
April-27

*

April-28

25283
Approved
Marina Ramp
boathook
20
Largemouth Bass

No
No
May-04
25136
Approved
Marina Ramp
boathook
20
Largemouth Bass

No
Yes
May-04

*

May-05

26201

Pending

Marina Ramp
boathook
18
Largemouth Bass

No
No
May-19
25843
Approved
Marina Ramp
boathook
10
Largemouth Bass

No
No
May-25
25258
Approved
Marina Ramp
boathook
25
Largemouth Bass

No
No
June-01

*

June-02

25082
Approved
Anthony Acres Ramp
boathook
50
Largemouth Bass

No
Yes
June-01

*

June-02

26103

Pending

Marina Ramp
boathook
20
Largemouth Bass

No
No
June-08
26108
Approved
Marina Ramp
boathook
20
Largemouth Bass

No
No
June-15
25281
Approved
Marina Ramp
boathook
25
Largemouth Bass

No
No
June-22
25269
Approved
Marina Ramp
boathook
25
Largemouth Bass

No
No
June-29

*

June-30

25594
Approved
Anthony Acres Ramp
boathook
15
Largemouth Bass

No
No
July-20
25291
Approved
Marina Ramp
boathook
25
Largemouth Bass

No
No
July-20
25527

Pending

Marina Ramp
boathook
25
Largemouth Bass

No
No
August-10
26111
Approved
Marina Ramp
boathook
20
Largemouth Bass

No
No
August-17
25301
Approved
Marina Ramp
boathook
25
Largemouth Bass

No
No
September-14
26188
Approved
Marina Ramp
boathook
15
Largemouth Bass

No
No
September-15
26189
Approved
Marina Ramp
boathook
15
Largemouth Bass

No
No
September-28

*

September-29

25447
Approved
Marina Ramp
boathook
20
Largemouth Bass

No
No
October-06
26021
Approved
Marina Ramp
boathook
17
Largemouth Bass

No
No
October-12

*

October-13

24996
Approved
Anthony Acres Ramp
boathook
50
Largemouth Bass

No
Yes
October-19

*

October-20

25060
Approved
Anthony Acres Ramp
boathook
50
Largemouth Bass

No
Yes