SILVER LAKE - DUPAGE CO.
Lake Information
County: DuPage
Acreage: 68
Shoreline Length: 1 miles
Recreational Amenities
Boat Fishing? No gas
Boat Ramps? Yes
Boat Rental? Yes
Skiing? No
Swimming? No
Picnicking? Yes
Camping? Yes

Trout stocked in fall

Trout stocked in spring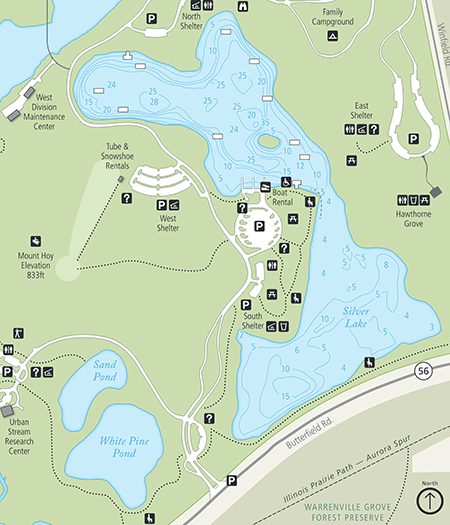 Map courtesy of the Forest Preserve District of DuPage County
Click on map for expanded view
Maps are not intended for navigation.
There are no zebra mussels in this lake.
Fish Stocking

Year

Species

Size

Count

2021

Channel Catfish

Non-vulnerable 8 - 10"

273

2021

Northern Pike

Non-vulnerable 8 - 10"

305

2021

Rainbow Trout

Adult

3270

2022

Channel Catfish

Advanced Fingerling 4 - 7"

247

2022

Northern Pike

Non-vulnerable 8 - 10"

300

2022

Rainbow Trout

Adult

3258
Additional information for stocking on Silver Lake
Location: Silver Lake is located withing the Blackwell Forest Preserve on Butterfield Road, 0.5 mile west of Winfield Road in Warrenville, south of Mack Road.
History and Status of the Sport Fishery: Silver Lake is part of a complex of small ponds within Blackwell Forest Preserve. Combined, Silver Lake, White Pine Pond and Sand Pond offer great fishing for bluegill, catfish, largemouth bass, northern pike, rainbow trout and walleye.
Contact Information: Forest Preserve District of DuPage CountyDan Grigas 630-933-7683IDNR Fisheries Biologist, Andy Plauck815-675-2386 ext. 214