SILVER LAKE (HIGHLAND)
Lake Information
County: Madison
Acreage: 550
Recreational Amenities
Boat Fishing? 50hp
Boat Ramps? Yes
Boat Rental? Yes
Skiing? No
Swimming? No
Picnicking? No
Camping? No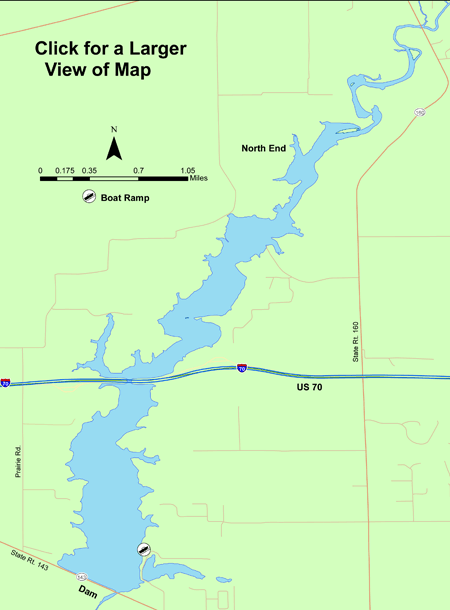 Click on area names for a more detailed map.
North, Dam, US 70
Maps are not intended for navigation.
There are no zebra mussels in this lake.
Fish Stocking

Year

Species

Size

Count

2021

Largemouth Bass

Advanced Fingerling 4 - 7"

7052

2021

Sauger

Fingerling 1 - 3"

10560

2022

Largemouth Bass

Advanced Fingerling 4 - 7"

14288
Additional information for stocking on Silver Lake (Highland)
Fishing Outlook ( Full PDF Report )
Click here for a list of all reports.
Species

Rank

Fish Status

Fair

The bluegill population is fair to poor. Few fish are reaching 7 inches The condition of the fish was good.

Very Good

25 channel catfish were collected, ranging in length from 15 to 27 inches and an average weight of over 2.5lbs. A very good catfish fishery is present in this lake.

Fair

The size distribution of the bass collected looks good and fish are present in several year classes. The fish collected were in good condition. Largemouth bass numbers are low likely due to poor natural reproduction and recruitment in the bass population. Stocking of largemouth bass from the state hatchery and from the new rearing pond should help to offset this.

Fair

The redear sunfish numbers appear to be dropping. The size distribution was fair with some fish over 8 inches.

Improving

Only 2 sauger were collected in this survey. They were both small fish under 8 inches. Reports from anglers suggest these fish are doing well and many good sized fish are being caught.

Excellent

The white crappie population is doing very well in this lake. It appears the lake has good numbers and a very good size distribution with many fish over 10 inches collected in the 2020 survey.
Location: Highland Silver Lake is located northwest of Highland on Route 143.
Description: This is a 550-acre water supply lake owned by the city of Highland. The fishery of the lake is cooperatively managed by the IDNR and the city of Highland. The shoreline of the lake includes rock, woody structure, and aquatic plants. There is one concrete boat ramp located in Silver Lake Park. There is limited shore angler access.
History and Status of the Sport Fishery: The IDNR Division of Fisheries routinely monitors the status of the fishery of Silver Lake. Recent stockings include supplemental largemouth bass and annual sauger.

The largemouth bass numbers are still lower than we would like in this lake. However, the size structure and condition are good. Hopefully, the supplemental stockings of largemouth bass will help improve these numbers. The new rearing pond will also provide additional bass for stocking. Water quality improvements and shoreline stabilization efforts are likely helping to improve spawning conditions as well. Largemouth bass stockings will continue to be requested from our state hatchery, however due to current reductions in our hatchery production further stockings are not guaranteed. The redear sunfish, crappie, and channel catfish populations should provide very good angling opportunities. The sauger stocking seems to be successful based on angler reports and should be continued.
Additional Lake Information: There is a 50 hp limit for boat motors and a city sticker is required for all boats. Boat permits can be purchased at Highland City Hall between 7:00am and 5:30pm. Swimming, wading, and waterskiing are prohibited.
Contact Information: Highland Parks 618-651-1386 IDNR Fisheries Biologist, Eric Ratcliff618-931-4217