SILVER LAKE (HIGHLAND)
Lake Information
County: Madison
Acreage: 574
Recreational Amenities
Boat Fishing? 50hp
Boat Ramps? Yes
Boat Rental? Yes
Skiing? No
Swimming? No
Picnicking? No
Camping? No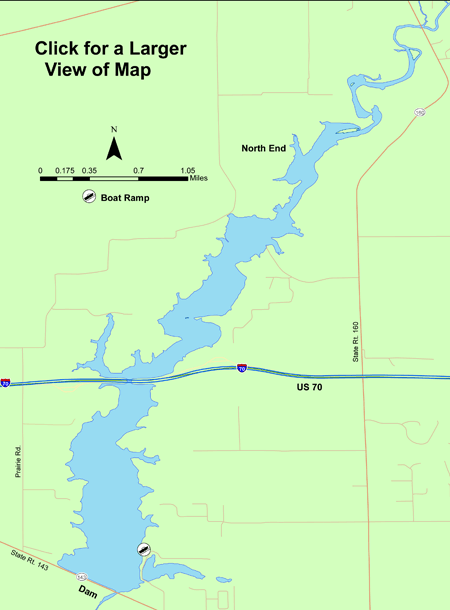 Click on area names for a more detailed map.
North, Dam, US 70
Maps are not intended for navigation.
There are no zebra mussels in this lake.
Fish Stocking

Year

Species

Size

Count

2019

Largemouth Bass

Advanced Fingerling 4 - 7"

13768

2019

Sauger

Fingerling 1 - 3"

6150

2020

Largemouth Bass

Advanced Fingerling 4 - 7"

13772

2020

Sauger

Fingerling 1 - 3"

9800
Additional information for stocking on SILVER LAKE (HIGHLAND)
Fishing Outlook ( Full PDF Report )
Click here for a list of all reports.
Species

Rank

Fish Status

Good

Bluegill are abundant in the lake but most are 6 inches or less.

Very Good

Channel catfish collected in the last survey were between 22 and 27 inches with an average weight of over 5 lbs.

Good

The crappie fishing can be good with lots of 9 to 10 inch white crappie in the lake.

Very Good

Bass in all size classes are abundant and their condition is good.

Very Good

The redear quality is very good with most over 8 inches and many over 9 inches.

Developing

Sauger have been stocked annually in the lake in recent year, and there have been several reports of good catches of quality sauger near the dam.
Location: Highland Silver Lake is located northwest of Highland on Route 143.
Description: This is a 550-acre water supply lake owned by the city of Highland. The fishery of the lake is cooperatively managed by the IDNR and the city of Highland. The shoreline of the lake includes rock, woody structure, and aquatic plants. There is one concrete boat ramp located in Silver Lake Park. There is limited shore angler access.
History and Status of the Sport Fishery: The IDNR Division of Fisheries routinely monitors the status of the fishery of Silver Lake. Recent stockings include supplemental largemouth bass and annual sauger.
Additional Lake Information: There is a 50 hp limit for boat motors and a city sticker is required for all boats. Boat permits can be purchased at Highland City Hall between 7:00am and 5:30pm. Swimming, wading, and waterskiing are prohibited.
Contact Information: Highland Parks 618-651-1386 IDNR Fisheries Biologist, Fred Cronin618-931-4217