DECATUR, LAKE
Lake Information

County: Macon
Acreage: 2905
Recreational Amenities
Boat Fishing? Unrestricted
Boat Ramps? Yes
Boat Rental? No
Skiing? Yes
Swimming? No
Picnicking? Yes
Camping? No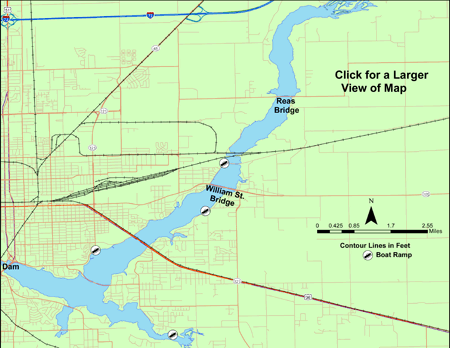 Click on area names for a more detailed map.
Decatur Dam, Reas Bridge, William Street Bridge
Maps are not intended for navigation.
There are no zebra mussels in this lake.
Fish Stocking

Year

Species

Size

Count

2019

Striped Bass x White Bass

Fingerling 1 - 3"

40745

2019

Walleye

Fingerling 1 - 3"

46765

2020

Striped Bass x White Bass (Wiper)

Fingerling 1 - 3"

31449

2020

Walleye

Fingerling 1 - 3"

74864
Additional information for stocking on DECATUR, LAKE
Fishing Outlook ( Full PDF Report )
Click here for a list of all reports.
Species

Rank

Fish Status

Fair

Bluegill fishing is fair. Few fish collected exceed 7.5 inches, but most have a heavy body weight.

Good

Common carp are abundant with fish exceeding 11 lbs. Fishing quality is rated as good.

Very Good

Channel catfish are abundant in the lake through natural recruitment. The average catch goes from 1 - 4 lbs., with the occasional fish over 10 pounds caught. Fishing quality should be good to excellent!

Excellent

Both white and black crappie are abundant. Growth rates are good. Anglers may still catch crappie up to 14+ inches and 1.3 lbs. Surveys in 2014 and 2016 indicated that good numbers of legal fish are present. Fishing prospects for 2018 are rated as excellent!

Good

Flathead catfish are high in abundance with trophy-sized fish up to 60 pounds caught recently. Fishing quality is rated as good.

Excellent

Freshwater Drum, commonly called drum "perch", are abundant with fish exceeding 10 lbs.

Fair

Hybrid striped bass are stocked annually with population density varying with stocking density and emigration over the spillway. Good numbers of hybrid striped bass have been caught by a few anglers in recent years with some exceeding 8 pounds. Numbers of hybrids are caught below the spillway in early spring. Fish up to seven pounds were caught during the 2016 late fall survey. Fishing quality is rated as fair for 2018.

Fair

Largemouth bass are moderate in abundance due to a lack of aquatic vegetation for nursery habitat. Bass from ½ - 4 lbs. have been collected in surveys with fish over 5 pounds caught by anglers on occasion. Body condition is good. Recruitment in 2013 and 2014 was slightly improved, although the collection rate was poor in 2016 for all sizes of bass. Fishing quality for 2018 is rated as fair-poor.

Excellent

Walleye are very abundant, with catch rates in 2016 and 2017 late fall surveys of 60 and 170/hr., respectively. A very high percentage (49%) of the fish collected in 2017 were 14" or longer. Fishing quality is rated as good to excellent for 2018 and should improve significantly in 2019. This will fishery will be the best since stocking was initiated on the lake.

Excellent

White bass are usually very abundant in Lake Decatur. They have excellent growth rates and fish exceeding 2 pounds are routinely collected in IDNR surveys. Late fall surveys of 2016 and 2017 indicate that good numbers and size structure are present. Fishing quality is rated as good - excellent for 2018!
Location: Lake Decatur is located on the east side of the City of Decatur, in Macon County.
Description: The lake covers 3,093 surface acres with a maximum depth of 22 feet and average depth of six feet. Public boat launching facilities are available with the City of Decatur (217-424-2837) collecting boating access fees. All tournaments must be registered.
History and Status of the Sport Fishery: The fish population in Lake Decatur is intensively surveyed every two years. The fish are measured, weighed, and scales collected before releasing them alive. Hybrid striped bass and walleye populations are surveyed annually and are maintained by annual stockings through IDNR hatcheries.

Buffalo, Redhorse suckers, and Carpsuckers are common, but few are caught by fishermen.
Yellow bass, Longear sunfish, Green sunfish, Orangespotted sunfish, and Yellow bullheads are collected, but are seldom harvested by fishermen due to the small size attained by these species.
Smallmouth bass, Rock bass, and Redear sunfish are very rarely collected and are likely very rare in the anglers catch.

Additional Lake Information: Pole and line fishing only, with no more than two poles allowed per person, with only two hooks or lures per pole. All statewide regulations are in effect. One-half hour after sunset the entire lake is no wake.

Site Regulations:

Largemouth or smallmouth bass: 14" minimum length limit; 6 fish daily limit
Walleye, sauger or saugeye: 14" minimum length limit; 6 fish daily limit
White or hybrid striped bass: Only 3 fish 17" or larger; no limit less than 17"
White, black or hybrid crappie: 10" minimum length limit; 10 fish daily limit
Contact Information: Lake Decatur Lake Patrol OfficeJoe Nihiser 217-424-2837IDNR Fisheries Biologist, Jim Garavaglia217-345-2420
There were 12 tournaments held on this waterbody in 2020.
| | |
| --- | --- |
| Species | Total Fish Caught |
| Crappie | 364 |
| Largemouth Bass | 178 |
Top 5 Largemouth Bass caught on this waterbody in 2020 tournaments:
1 4.43 lbs
2 4.10 lbs
3 3.58 lbs
4 3.54 lbs
5 3.39 lbs
Top 5 Bag Weights of Largemouth Bass caught on this waterbody in 2020 tournaments:
| | |
| --- | --- |
| 1 | 85.37 lbs |
| 2 | 56.30 lbs |
| 3 | 51.60 lbs |
| 4 | 39.82 lbs |
| 5 | 24.53 lbs |
Multiple day tournaments are listed with * end date.
Interested in participating in one of these public tournaments? Contact us with tournament ID for more information.
2021 Approved or Pending Tournaments
Start Date
ID
Approval
Ramp Location
Bank/Boat
Hook/Bow
Max Boats
Species
Youth?
Open to Public?
June-12
18889
Approved
Nelson Park
boathook
25
Crappie

No
No
June-13
17861
Approved
Nelson Park
boathook
6
Largemouth Bass

No
No
June-23
18806
Approved
Nelson Park
boathook
30
Largemouth Bass
Smallmouth Bass

No
Yes
June-24
18357
Approved
Nelson Park
boathook
35
Crappie

No
Yes
July-07
18807
Approved
Nelson Park
boathook
30
Largemouth Bass
Smallmouth Bass

No
Yes
July-21
18808
Approved
Nelson Park
boathook
30
Largemouth Bass
Smallmouth Bass

No
Yes
August-18
18809
Approved
Nelson Park
boathook
30
Largemouth Bass
Smallmouth Bass

No
Yes
August-22
16991
Approved
Nelson Park
boathook
10
Largemouth Bass

No
No
September-01
18810
Approved
Nelson Park
boathook
30
Largemouth Bass
Smallmouth Bass

No
Yes
September-02
18358
Approved
Nelson Park
boathook
35
Crappie

No
Yes
September-15
18811
Approved
Nelson Park
boathook
30
Largemouth Bass
Smallmouth Bass

No
Yes
September-16
18359
Approved
Nelson Park
boathook
35
Crappie

No
Yes
September-29

*

October-02

17818
Approved
Nelson Park
boathook
24
Largemouth Bass

Yes
No
September-30
18360
Approved
Nelson Park
boathook
35
Crappie

No
Yes
October-10
18812
Approved
Nelson Park
boathook
30
Largemouth Bass
Smallmouth Bass

No
Yes
October-24
18361
Approved
Nelson Park
boathook
35
Crappie

No
Yes
November-07
19493
Approved
Nelson Park
boathook
25
Crappie

No
No
November-28
18099
Approved
Nelson Park
boathook
15
Crappie

No
Yes