SPRING LAKE (NORTH)
Spring Lakes North and South close to boat fishing October 20 and close to bank fishing after 1pm beginning October 28.
Lake Information
County: Tazewell
Acreage: 465
Average Depth: 2.99 feet
Recreational Amenities
Boat Fishing? No Wake over 25hp
Boat Ramps? Yes
Boat Rental? No
Skiing? No
Swimming? No
Picnicking? Yes
Camping? Yes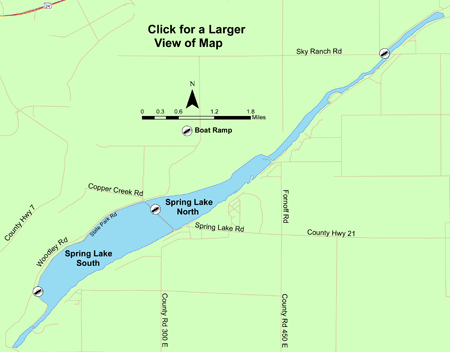 Click on area names for a more detailed map.
Spring Lake North, Spring Lake South
Maps are not intended for navigation.
There are no zebra mussels in this lake.
Fish Stocking

Year

Species

Size

Count

2021

Channel Catfish

Advanced Fingerling 4 - 7"

9000

2021

Muskellunge

Adult

420

2021

Muskellunge

Fingerling 1 - 3"

25500

2021

Muskellunge

Fry

49800

2022

Channel Catfish

Advanced Fingerling 4 - 7"

9000

2022

Muskellunge

Adult

109

2022

Muskellunge

Fingerling 1 - 3"

29359

2022

Muskellunge

Fry

39000
Additional information for stocking on Spring Lake (North)
Species

Rank

Fish Status

Poor

Surveys have shown the bulk of the bluegill population being from 3" - 5". The indices were slightly better in 2022 with 2% of the population sampled being over 8 inches and having an average body condition value of 91.

Excellent

An excellent population of catchable-sized channel catfish from 10 - 22 inches is found at North Spring Lake. Best fishing for these fish is found along the Northwest levee and on the outside of the aquatic vegetation beds. Best fishing for channel catfish is at night from May through July.

Very Good

The 2022 indices showed 7 percent of the fish were over 10 inches and the body condition of 95 In 2018 a new harvest regulation started for crappie. This regulation is a harvest limit of 25 fish per day with only 10 fish over 10 inches allowed. This regulation will allow harvest pressure on the large percentage of crappie that are under 9 inches in length.

Good

The 2022 surveys show the largemouth bass population was meeting or just under all desired population indices, with 60% being over 12 inches, 24% of the population being above 15 inches and 5% above 20 inches. This could be attributed to the good year classes of bass that have been produced at North Spring Lake the past few years moving up into these size classes along with the protected slot limit. The body condition was good with an average value of 89. In 2018 a new harvest regulation went into effect for largemouth bass. The regulation is a protected slot from 12 to 18 inches with 3 fish per day harvest. This is an attempt to restructure to bass population to a larger percent of fish over 16 inches. Growth and condition have been tremendously impacted by the dense growth of Eurasian milfoil in the past. The management of North Spring Lake was geared toward opening forage "edge" in these solid growth milfoil beds and shifting vegetation types to native species.

Excellent

The 2022 spring musky survey yielded 139 fish, for a total of 0.8 fish per net-night. 90.6% of fish captured were greater or equal to 30", with 6.5% of those being greater than 38" and 2.2% larger than 42 inches. The largest fish was a 46" female. Female to male ratio was 31% female: 69% male.

Poor

Surveys have shown the bulk of the redear population being from 5" - 7" and with 1% being over 9 inches.
Location: North Spring Lake is a 578 acre body of water located 6 miles north and west of Manito, Illinois, adjacent to the Illinois River.
Description: North Spring Lake is an elongated backwater lateral marsh of the Illinois River. It was separated by a high levee from the Illinois River in 1916. The North Lake was separated from the South Lake in 1978 by a stop log structure and a spillway for discharge water. North Spring Lake receives 52 acre feet of recharge daily from springs and seeps. Spring Lake currently has a 25 horsepower limit for outboard motors. The main access is via the Spring Lake blacktop road. A single lane boat ramp is located along the causeway which crosses Spring Lake. An additional gravel ramp is located adjacent to the Sky Ranch blacktop road bridge crossing of North Spring Lake. North Spring Lake is a shallow, very fertile backwater. It has a 75% coverage of aquatic vegetation after April and until November of each year. The lake is closed to boat fishing one week prior to regular waterfowl season, and until the end of waterfowl season each year.

Always a shallow body of water, Spring Lake has an average depth of 2.9 feet. Of the 578 acres of water, at least 75% is covered with 17 different species of aquatic vegetation by late May of each year. The majority of this coverage now consists of Eurasian milfoil, lily and lotus. The tremendous spring recharge from the bed of the lake amounts to 52 acre feet a day, creating very cold water temperatures under the insulating layer of vegetation for the majority of the summer months. This is a unique situation and only occurs in Spring Lake within the State of Illinois.
History and Status of the Sport Fishery: North spring Lake was rehabilitated in the 1980s to remove an undesirable carp-gizzard shad fish population. As a result of the rehabilitation, an excellent fish population resulted. Water clarity improved and aquatic weeds flourished. Good fishing for largemouth bass, crappie, sunfish and catfish soon resulted. As part of an effort to develop a brood source for muskie, Spring Lake has been stocked with that species for 25 years. Muskie are trap netted at the lake and spawned at the Jake Wolf Fish Hatchery in March of each year. A total of over half a million eggs are produced for state-wide muskie needs each year. The muskie population is being continuously monitored using electronic tags. This marking program has been ongoing since 1999. Because of its shallow water and clarity, North Spring Lake has a tremendous coverage of aquatic vegetation. As part of an effort to reduce coverage of Eurasian milfoil (an exotic invasive plant), North Spring Lake is treated with DMA4-2, 4D each year.
Additional Lake Information: North Spring Lake has three useable boat ramps and is accessible by the Manito Blacktop, 12 miles south of Pekin. No fuel or services are available, however, camping and food is. There is a 25 horsepower limit at Spring Lake.

Tournaments: All bass tournaments must register online using the new Tournament Permit System at least 30 days before the event.

New Site Regulation Effective April 2018:
Largemouth bass: protected slot length from 12 to 18 inches, with the harvest of 3 fish either over or under this protected slot.

Crappie: harvest limit of 25 fish per day with only 10 fish over 10 inches allowed.


Contact Information: Spring Lake State Fish and Wildlife Area 309-968-7135IDNR Fisheries Biologist, Blake Bushman309-435-1010
There were 3 tournaments held on this waterbody in 2022.
| | |
| --- | --- |
| Species | Total Fish Caught |
| Largemouth Bass | 55 |
| Muskellunge | 8 |
Top 5 Largemouth Bass caught on this waterbody in 2022 tournaments:
1 5.56 lbs
2 5.50 lbs
3 5.38 lbs
4 5.19 lbs
5 5.00 lbs
Top 5 Total Tournament Weight of Largemouth Bass caught on this waterbody in 2022 tournaments:
Tournaments held on both Spring Lake North and Spring Lake South will have N/S under the tournament ID in the following table.
Multiple day tournaments are listed with * end date.
Interested in participating in one of these public tournaments? Contact us with tournament ID for more information.
2023 – 2024 Approved or Pending Tournaments
Start Date
ID
Approval
Ramp Location
Bank/Boat
Hook/Bow
Max Boats
Species
Youth?
Open to Public?
March-24
25916
Approved
Causeway Ramp
boathook
40
Largemouth Bass

No
Yes
April-06
25534
Approved
Causeway Ramp
boathook
50
Largemouth Bass

No
No
April-14
25917
Approved
Causeway Ramp
boathook
40
Largemouth Bass

No
No
April-20
25038
Approved
Causeway Ramp
boathook
18
Muskellunge

No
Yes
April-27

*

April-28

25881
Approved
Peoria Sportmens' Club Ramp
boathook
50
Largemouth Bass

No
Yes
May-05
25668
Approved
Causeway Ramp
boathook
17
Largemouth Bass

No
No
May-07
26115
Approved
Causeway Ramp
boathook
40
Largemouth Bass

No
Yes
May-21
26116
Approved
Causeway Ramp
boathook
40
Largemouth Bass

No
Yes
June-04
26117
Approved
Causeway Ramp
boathook
40
Largemouth Bass

No
Yes
June-08

*

June-09

25884
Approved
Peoria Sportmens' Club Ramp
boathook
50
Largemouth Bass

No
Yes
June-09
25171
Approved
North Ramp
boathook
20
Largemouth Bass

No
No
June-18
26118
Approved
Causeway Ramp
boathook
40
Largemouth Bass

No
Yes
July-02
26119
Approved
Causeway Ramp
boathook
40
Largemouth Bass

No
Yes
July-13
25422
Approved
Causeway Ramp
boathook
10
Largemouth Bass

No
No
July-16
26120
Approved
Causeway Ramp
boathook
40
Largemouth Bass

No
Yes
July-30
26121
Approved
Causeway Ramp
boathook
40
Largemouth Bass

No
Yes
August-11
25669
Approved
Causeway Ramp
boathook
17
Largemouth Bass

No
No
August-13
26122
Approved
Causeway Ramp
boathook
40
Largemouth Bass

No
Yes
August-24
25370
Approved
Causeway Ramp
boathook
15
Largemouth Bass
Smallmouth Bass

No
No
August-31
26123
Approved
Causeway Ramp
boathook
40
Largemouth Bass

No
Yes