Rock River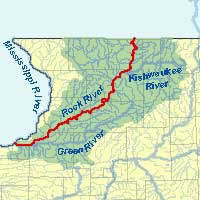 Rock River Fishing Guide
Location: The Rock River begins just to the west of the village of Brandon in Metomen township, Fond du Lac County, Wisconsin and flows southward to the Illinois border ending 325 miles later at the Mississippi River at the Quad Cities in Illinois and Iowa. The river drains 10,280 square miles with about half of this area in Illinois. The Illinois portion of the river has major population centers at Rockford, Dixon, Sterling/Rock Falls, and Rock Island. The remainder of the Illinois portion of the basin is primarily agricultural. The Rock River has low-head dams at Rockton, Rockford, Oregon, Dixon, two at Sterling/Rockfalls, and a split dam at Milan.
Description: The Rock River, which winds 155 miles through northwestern Illinois, is one of the main tributaries to the Mississippi River and provides a diverse fishery. The river provides an aquatic resource of about 12,400 acres as it glides past towns like Rockford, Oregon, Dixon, Sterling and Rock Island before spilling into the Mississippi. Dams at Rock Island, Milan, Sterling, Dixon, Oregon, Rock-ford and Rockton produce fast, turbulent water, and these tailwaters are good spots for walleyes, sauger and white bass.
The river generally averages about 15 feet in depth in the main channel, but between Dixon and Sterling, depths may drop to 50 feet. The bottom is largely bed rock, but there are extensive gravel areas and some places where the bottom is covered with a layer of mud or silt.
From where it departs, Wisconsin to the mouth of the Kishwaukee River, the prime fishing spots are the dams at Rockton and Rockford and the tributary streams, which include the Pecatonica River and Willow Creek. Ramps are located in the Forest Preserve at Rockton, at Harlem Road south of North Park and at Blackhawk Park south of Rockford. There is a small forest preserve just upstream on the south bank of the Kishwaukee.
Pools where the Leaf River enters south of Byron is a good fishing spot as is the water above Oregon and at the dam there. Ramps are located at Byron and Lowden State Park at Oregon where there also is camping with electrical hookups. Ramps are available at Lowell Park on the west bank along Ill. Route 2 north of Dixon, at Page Park in Dixon and Oppold Marina north of Sterling.
Ramps are also located in Sterling, Rock Falls, at a roadside park downstream along Route 2, at Prophetstown State Park where camping and electrical hookups are available, and at the Erie Boat Club.
There are a few access areas south of Erie, and anglers will find many small islands as the stream flows through low farmland. Fishing should pick up where the Green River enters below Green Rock.
Status of the Sport Fishery: There are more than 80 species of fish in the Rock River Basin, including several species of sport fish. The most sought after of the sport fish are the catfish, with both channel catfish and flathead catfish abundant and of trophy size. Smallmouth bass and walleye fishing are also popular, and close to 70,000 walleye are stocked each year to support this excellent fishery. Panfish, such as bluegill and crappie, can be found in some of the back water areas, along with largemouth bass. Northern pike can be found in the northern end of the river near Rockford, but in limited numbers.
Lake Status Summary ( Full PDF Report )
Click here for a list of all reports.
Species

Rank

Fish Status

Excellent

Channel catfish are extremely abundant in the Rock River in most all areas. A study done in 2013 found that 91% of the adult size fish in the population were over 16" in length, and 21% of these were over 24", which bodes well for anglers looking for good-sized fish. The average weight of the 633 fish collected in this study was 3.78 pounds with the largest fish over 30 inches in length and weighing 13.2 pounds.

Excellent

The Rock River is one of the best rivers in the state for catching trophy-sized flathead catfish. A study done in 2013 found that of a total of 395 adult size flathead catfish collected, 73% were over 24" in length, 49% were over 28", 15% were over 36", and 3.3% were over 40". The 36" fish averaged 22 pounds in weight. The largest flathead catfish collected during this study was a 44" fish weighing 50 pounds.

Very Good

Smallmouth bass are common and abundant in the Rock River. A survey conducted in the summer of 2014 found very large numbers of young fish, indicating an excellent spawn. The catch rate was low for the larger fish though, (> 7") with a rate of 0.6 fish/minute, but the catch rate of 1.2 fish/minute for all sizes was within the target rate. The overall number of adult fish (>11") collected was a little low, with only 28% of the population in this size range, but this rate has increased slightly as compared to the survey of 2013. Prophetstown had the best number of larger fish with 44% of the adult smallmouth collected in this area > 11"! With the strong year classes produced in 2012, 2013, and again in 2014, the number of larger fish should improve significantly in the near future. Best fishing areas are in South Beloit, below the dam in Dixon, and downstream of Prophetstown State Park. Regulation: 6 black bass, singly or in combination, with no more than 3 smallmouth bass in the daily creel; 14" minimum length limit for smallmouths. Note: There is a closed season on smallmouth bass. All smallmouth bass caught between April 1 and June 15 must be immediately released alive and in good condition back into the waters from which they came.

Very Good

Walleye are stocked each year into the Rock River to provide a quality sport fishery for this species. Fishing is generally good below the dams and at the mouths of the tributaries. Walleye ranging in size up to and over the state record weight have been caught in recent years in the upper Rock River and the Pecatonica River, a tributary of the Rock near Rockford. A survey conducted in the fall of 2014 near Dixon found a catch rate of 1 fish/ minute with a total of 101 fish of all sizes collected in one hour, well over the target rate for stocking success. The largest collected was just over 3 pounds. Anglers regularly report catching memorable-size walleye from Sterling up through Rockford. Best fishing for walleye is in the upper Rock River, north of Rockford, however anglers sometimes report good fishing near Dixon and at Prophetstown State Park. Regulation: Walleye, Sauger, or Hybrid Walleye – Wisconsin state line downstream to the Sears and Steel dams at Milan: 6 either singly or in combination; 14" minimum length limit. Walleye, Sauger, or Hybrid Walleye — Sears and Steel dams downstream to confluence with Mississippi River, State of Illinois (Rock Island County): 6 fish daily creel with no more than 1 walleye greater than 27" in total length; 15" minimum length limit with a 20-27" protected Slot Length Limit.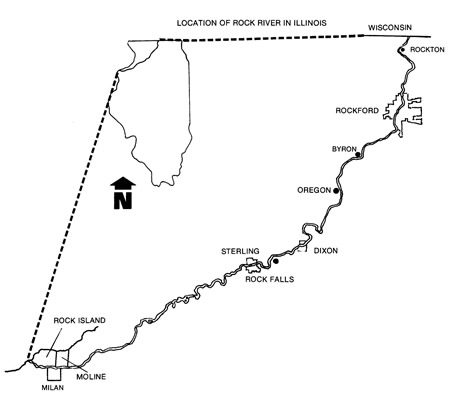 Rock River Fishing Reports
There were 13 tournaments held on this waterbody in 2017.
| | |
| --- | --- |
| Species | Total Fish Caught |
| Channel Catfish | 812 |
| Common Carp | 146 |
| Flathead Catfish | 24 |
| Largemouth Bass | 8 |
| Smallmouth Bass | 64 |
Top 5 Largemouth Bass caught on this
waterbody in 2017 tournaments:
2018 Approved or Pending Tournaments
Start Date
End Date


(if different from start)

ID
Ramp Location
Bank/Boat
Hook/Bow
Max Boats
Species
Open to Public?
May-19
May-20
9234
Castle Rock SP
boathook
15
Channel Catfish
Flathead Catfish

Yes
May-26
9203
Prophetstown SP
boathook
40
Channel Catfish
Flathead Catfish

Yes
August-11
August-12
9235
Castle Rock SP
boathook
15
Channel Catfish
Flathead Catfish

Yes