Ohio River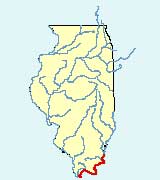 Description: The Ohio River, a tributary of the Mississippi River, flows along the shared border of Illinois and Kentucky. Its length along the border is 133 miles, and its major tributaries include the Wabash and Saline rivers. The Ohio River drains to the Mississippi River near Cairo.
The Illinois portion of the Ohio River begins at the mouth of the Wabash River near Uniontown, Kentucky and flows 133 miles to its confluence with the Mississippi River at Fort Defiance. This portion of the Ohio is made up of three lock and dams with three river pools and an open river area. The pool areas, embayments, and open river areas provide diverse habitats, which provide a diverse fisheries. Over 150 different species of fish have been recorded from the Ohio River with many of these being sport species. The river level is regulated by the Army Corps of Engineers for navigation and has a navigation channel marked by buoys running its entire length. Water depths in the channel run from 9 to 90 feet.
Smithland Pool is the largest pool and is formed by the high lift dam near Smithland, Kentucky. The pool runs from near Uniontown, Kentucky 72 miles to the dam. Smithland Pool is over 27,000 acres in size and contains many small embayments that provide many fishing opportunities. These embayments are actually small tributaries that were impounded when the dam was built.
Major embayments on the Illinois side include Lusk Creek, Barren Creek, Big Creek, Big Grand Pierre Creek, Bay Creek, Dog Creek, Alcorn Creek and the Saline River. Bluegill, white and black crappie, channel catfish and largemouth bass can be found in lower portion of these areas. The main channel borders and island borders of the Smithland Pool provide excellent fishing for spotted bass, white bass, freshwater drum, flathead catfish, channel catfish and blue catfish. Smallmouth bass are also beginning to found along portions of the main channel border.
Areas of stronger current in the upper portion of the pool above Old Shawneetown, Illinois provide anglers opportunities to catch additional sport fish, such as sauger, striped bass and hybrid striped bass. The tailwater of the Smithland Dam provide excellent angling opportunities for many different sport fish. Blue catfish, channel catfish, flatheads, white bass, striped bass, spotted bass and freshwater drum are some of the fish that can be caught in the tailwater. Anglers can also expect to see the exotic bighead, silver and grass carp in Smithland Pool and it's tailwater.
The smaller pools on the Ohio are Pool Number 52 and 53. These pools are formed by older wicket dams, which tend to vary water levels and flows on a daily basis. Dam's 52 and 53 are to be replaced in the near future when the dam located at Olmstead, Illinois is completed. Pool 52 starts at the Smithland tailwater at flows 21 miles to Dam 52 located above Metropolis, Illinois. Pool 53 runs 24 miles to Dam 53 located above Olmstead, Illinois. The open river portion of the Ohio begins at Dam 53 and flows 18 miles to the Mississippi River below Cairo, Illinois. These smaller pools and open river areas provide anglers opportunities to catch channel cats, blue cats, flatheads, striped bass, hybrid striped bass, white bass and sauger.
River Access: Access to Smithland Pool can be found at its many public and private boat ramps. Public ramps can found at Old Shawneetown, Cave in Rock, Tower Rock, Elizabethtown, Rosiclare, Golconda Marina, Golconda and Barren Creek. Access to the Smithland tailwater can be obtained by locking through the Smithland Dam or by utilizing boat ramps at Smithland Kentucky.
Access to the smaller Pool Number 52 and 53 can be found at the many public boat ramps. Public boat ramps can be found at Brookport, Fort Massac, Metropolis, Joppa, Pulaski County, Mounds City, Cairo and Fort Defiance.
Status of the Sport Fishery: The Ohio River has an excellent sport fishery, which does and will continue to provide many angling opportunities to the Illinois angler. Please be aware of the consumption advisory on this portion of the Ohio River.
Ohio River Fishing Reports
Ohio River
There were 32 tournaments held on this waterbody in 2021.
| | |
| --- | --- |
| Species | Total Fish Caught |
| Blue Catfish | 48 |
| Channel Catfish | 6 |
| Crappie | 84 |
| Flathead Catfish | 4 |
| Largemouth Bass | 1426 |
| Smallmouth Bass | 86 |
| Spotted Bass | 50 |
Top 5 Largemouth Bass caught on this waterbody in 2021 tournaments:
1 5.56 lbs
2 5.19 lbs
3 5.00 lbs
4 4.94 lbs
5 4.88 lbs
Top 5 Total Tournament Weight of Largemouth Bass caught on this waterbody in 2021 tournaments:
| | |
| --- | --- |
| 1 | 350.00 lbs |
| 2 | 169.06 lbs |
| 3 | 158.38 lbs |
| 4 | 156.07 lbs |
| 5 | 143.25 lbs |
Multiple day tournaments are listed with * end date.
Interested in participating in one of these public tournaments? Contact us with tournament ID for more information.
2021 – 2022 Approved or Pending Tournaments
Start Date
ID
Approval
Ramp Location
Bank/Boat
Hook/Bow
Max Boats
Species
Youth?
Open to Public?
June-04

*

June-05

20067
Approved
Golconda Marina
boathook
15
Largemouth Bass
Smallmouth Bass
Spotted Bass

No
No
June-05
21493
Approved
Golconda Marina
boathook
18
Crappie

No
Yes
June-11

*

June-12

20117
Approved
Golconda Marina
boathook
14
Largemouth Bass

No
No
July-16
20498
Approved
Golconda Marina
boathook
15
Largemouth Bass
Smallmouth Bass
Spotted Bass

No
No
July-17
20499
Approved
Golconda Marina
boathook
15
Largemouth Bass
Smallmouth Bass
Spotted Bass

No
No
September-10
20316
Approved
Golconda Marina
boathook
18
Largemouth Bass
Smallmouth Buffalo
Spotted Bass

No
No
September-11
20187
Approved
Lusk Creek Ramp
boathook
10
Largemouth Bass
Smallmouth Bass
Spotted Bass

No
No
September-11
20738
Approved
Golconda Marina
boathook
18
Largemouth Bass
Smallmouth Buffalo
Spotted Bass

No
No
September-17

*

September-18

20328
Approved
Golconda Marina
boathook
18
Largemouth Bass
Smallmouth Buffalo
Spotted Bass

No
No
September-18
20740
Approved
Golconda Marina
boathook
18
Largemouth Bass
Smallmouth Buffalo
Spotted Bass

No
No