Mississippi River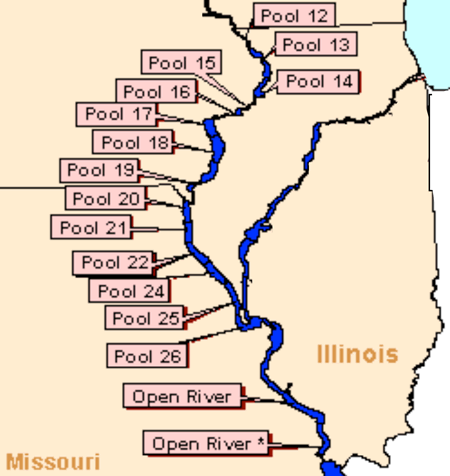 Upper Mississippi Fishing Guide


Middle Mississippi Fishing Guide
Description: The mighty Mississippi River forms the western border of Illinois, where it glides along flowing south the entire length of the state. Its length along the border is 593 miles, and its major Illinois tributaries include the Rock, Illinois, and Kaskaskia rivers. When the Mississippi River reaches its confluence with the Ohio River near Cairo, it is draining wholly or partially 25 states, as well as portions of Canada.
There are two sections to the Mississippi as its flows through Illinois. The upper portion between Alton and East Dubuque near the Wisconsin border consists of a series of reservoirs formed by 14 navigation dams. These pools range from 10 to 47 miles in length and from 3,725 to 33,500 acres in size. In all, some 200,000 acres of water are available for sport fishing in this stretch.
The portion of the river from Alton to Cairo provides 61,266 acres of water. There are no locks and dams on this stretch of the river, which is better characterized as open river with wing dams, side channels, main channel, main channel border and extensive rip rap along the channel banks for protection.
Status of the Sport Fishery: You name it, and the "Father of Waters" has it. Walleye, northern pike and sauger swim in the northern stretches. Crappie, plump bluegills, largemouth bass and bullhead are caught in the myriad of backwater lakes and sloughs. Channel catfish are found virtually everywhere, and the white bass fishery explodes at times.
An unsuspecting fisherman might even hook into a huge sturgeon or snag a giant paddlefish that would most likely swim off with hook, line and sinker. the list of state record fish, the Mississippi has yielded five of those fish, including a 157-pound alligator gar in 1944. This species is exceedingly rare in the state. Other record fish from this great stream are a five-pound, 12-ounce sauger; a 48-pound buffalo; a 57-pound, two-ounce large sturgeon; and a 52-pound paddlefish, which was landed in 1977.
Tailwater areas below each of the roller dams provide fast, turbulent water, which stirs up food and attracts game fish. The best walleye and sauger fishing occurs behind these dams in spring and fall. White bass fishing can be excellent there at times also.
The upper pools are loaded with beautiful, island-studded lakes and sloughs. Many of these areas have little current and exhibit aquatic vegetation. In this type of habitat, which includes stump fields and flooded brush, anglers make fine catches of bluegills, crappies, largemouth bass and bullheads. When winter comes, ice fishing can be found in these spots.
Side channels also are good fishing spots. They may be as wide and as deep as the main channel or may be shallow enough to resemble slough habitat. During normal water stages, these side channels do have currents in them. Fish commonly caught there are channel catfish, white bass, panfish and drum.
Dropoffs from the flats and shallow water to the main channel are good spots for channel cat. Wing dams along the main channel area in this border habitat are excellent fishing areas for white bass, channel catfish, drum, sauger and walleye. Wing dams are relics of an early attempt to control the Mississippi. Many were constructed in the late 1800s to control erosion and divert the current. Consisting of rock and filler, they mostly run at right angles from the shore, and their visibility to the boater depends on the stage of the river. The dams usually extend for some distance and have various shapes.
Emergent dams provide fast, flowing waters at their riverward end. When submerged or partially submerged at higher river stages, they appear to cause a riffle effect in the water. At the riverward ends and immediately downstream of the dikes, deep scour holes often can be found.
In the upper pools, anglers troll above these wing dams and pick up walleye in late fall, winter and spring. It takes some boat-handling skills to control the speed and proper depth of the lure along these dams. Other fishermen may wade out on these dams during low water periods and score consistently on channel catfish and white bass.
Essentially, the river changes from a walleye fishery in the north to a catfish hotspot in the south. The river widens and becomes more turbid the farther south it goes, especially below St. Louis, Mo., where the Missouri River joins it.
The walleye and sauger fishery extends about as far south as Lock 21 at Quincy, but pools north of that are considered hotspots. Wing dams in Pool 12 in Jo Daviess County are excellent spots, as is the tailwater below Lock and Dam 12 at Bellevue, Iowa. Lock and Dam 17 at New Boston also is heavily fished for these species.
Southern reaches of the river produce excellent catches of channel catfish. The side channels and rip rap areas from Monroe to Alexander County, about a 160-mile stretch, are good areas, as is the tailwaters and shoreline areas below Lock and Dam 26 at Alton. Good catches also have been made recently in the Thomson Slough area on Pool 19 near Dallas City and the O'Dell Chute in Adams County.
Sloughs and lakes on each pool that traditionally have been good fish producers, keeping in mind that the wing dams and tailwaters will produce almost anytime.
Mississippi River Pools

Click here for maps
Pool 12:
Pool 13:
Pool 14:
Pool 15:
Pool 16:
Pool 17:
Pool 18:
Pool 19:
Pool 20 & 21:
Pool 22 & 24:
Pool 25:
Pool 26:
Upper Mississippi River 2021 Basin Survey
River Access: Launching ramps are found in virtually every town located along the river in the 14 navigation pools and at state and federal public use areas. Access is very limited in the stretch below Alton. Motels also are located in larger towns along the stream.
Additional Information: When discussing the Mississippi River, safety must be mentioned. Barges are constantly moving up and down the stream and should be avoided. Wing dams also can be dangerous at certain times, so caution should be used in moving about. Locks and dams are popular fishing spots, but they also can be very dangerous. Persons should stay at least 200 yards downstream or 200 yards up-stream of these areas. A heavy, solid anchor on a strong rope at least 50 yards in length should be used to hold your craft near the navigation dams.
Remember, play it safe and wear a life jacket at all times.
Mississippi Fishing Reports
There were 66 tournaments held on this waterbody in 2022.
| | |
| --- | --- |
| Species | Total Fish Caught |
| Blue Catfish | 18 |
| Channel Catfish | 8 |
| Flathead Catfish | 8 |
| Largemouth Bass | 3471 |
| Smallmouth Bass | 230 |
Top 5 Largemouth Bass caught on this waterbody in 2022 tournaments:
1 6.25 lbs
2 6.18 lbs
3 5.62 lbs
4 5.57 lbs
5 5.50 lbs
Top 5 Total Tournament Weight of Largemouth Bass caught on this waterbody in 2022 tournaments:
| | |
| --- | --- |
| 1 | 523.04 lbs |
| 2 | 436.41 lbs |
| 3 | 403.20 lbs |
| 4 | 369.93 lbs |
| 5 | 315.66 lbs |
Multiple day tournaments are listed with * end date.
Interested in participating in one of these public tournaments? Contact us with tournament ID for more information.
2023 Approved or Pending Tournaments
Start Date
ID
Approval
Ramp Location
Bank/Boat
Hook/Bow
Max Boats
Species
Youth?
Open to Public?
September-24
23454
Approved
Pool 13 - Savanna Park District Marina Ramp
boathook
60
Largemouth Bass
Smallmouth Bass

No
Yes
September-24
24568
Approved
Pool 14 - Albany City Ramp
boathook
6
Largemouth Bass
Smallmouth Bass

No
No
September-30
23721
Approved
Pool 19 - Dallas City Boat Ramp
boathook
25
Largemouth Bass
Smallmouth Bass

No
No
September-30

*

October-01

24569
Approved
Pool 13 - Savanna Park District- Marquette Park Ramp
boathook
6
Largemouth Bass
Smallmouth Bass

No
No
October-01
23722
Approved
Pool 18 - Oquawka
boathook
25
Largemouth Bass
Smallmouth Bass

No
No
October-01
24945
Approved
Pool 12 - Mid-Town Marina (East Dubuque)
boathook
20
Largemouth Bass
Smallmouth Bass

No
No
October-07

*

October-08

24722
Approved
Pool 13 - Savanna Park District Marina Ramp
boathook
35
Largemouth Bass
Smallmouth Bass

No
No
October-22
24560
Approved
Pool 13 - Big Slough (Corps of Engineers)
boathook
25
Largemouth Bass
Smallmouth Bass

No
Yes
October-22
24723
Approved
Pool 13 - Savanna Park District Marina Ramp
boathook
35
Largemouth Bass
Smallmouth Bass

No
No