Kankakee River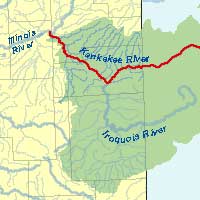 Kankakee-Iroquois River Fishing Guide
Description: The Kankakee River runs from its origin near South Bend Indiana to the confluence with the Des Plaines River near Channahon. Flowing for a total of 59 miles in Illinois , the Kankakee River contains 3 dams and twelve larger tributary streams, including the Iroquois River. The upper river is low gradient, running through the Momence wetlands, a high quality floodplain forest. Downstream of the Kankakee, the gradient increases, flowing over bedrock and cobble through the Kankakee River State Park and past Wilmington, joining the Des Plaines to form the Illinois River.
An angler can fish from a canoe or jon boat, try his luck from shore or wade the stream. Caution must be used, since there are sharp dropoffs and deep holes in the river.
The Kankakee is predominantly a clear, shallow stream with gravel-rubble riffles, sand-bottom pools and swampy marsh areas along the upper portion. Larger pools are formed by dams at Momence, Kankakee and Wilmington, as well as by the Dresden Lock and Dam on the headwaters of the Illinois. An aquatic resource of about 3,338 acres exists on the Kankakee.
River Access: Shore access and boat ramps can be found in most of the larger towns along the river, including Momence, Aroma Park, Kankakee, and Wilmington. The Kankakee River State Park offers eleven miles of excellent river access.
Kankakee River Fishery Facts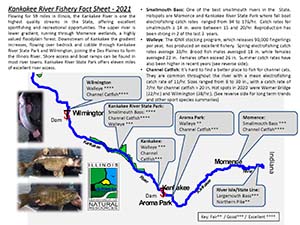 Basin Report:Kankakee River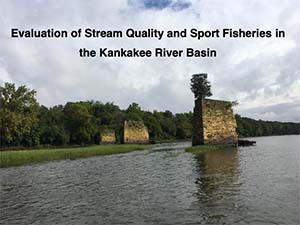 Status of the Sport Fishery: The Kankakee River is a very high quality system, supporting a high diversity of fishes and mussels. It is well known as an excellent sport fishery for smallmouth bass, walleye, channel catfish, rock bass, and northern pike.
The best smallmouth action occurs in early spring and fall. Spinners, crank baits, jigs and similar artificials are good on the spunky fish, but minnows, worms, frogs and crayfish also can produce. Riffles, creek mouths and fast water below dams are good for "bronzebacks."
Quieter areas, like backwaters of the Des Plaines Conservation Area along the river, are good spots for largemouth bass. Quiet water also is a good spot for northern pike, which also are taken behind islands and ebb areas formed by tributaries.
Species

Rank

Fish Status

Good

Bluegill are relatively abundant and widespread in distribution, tending to be more common at the low gradient stations with slower flows. The stations at River Isle, Kankakee and the Confluence have the most bluegill.

Very Good

Many anglers would agree that the Kankakee is fine river for channel catfish. The best locations are Momence, Rt. 17 Bridge, Kankakee, Langham Island, and Warner Bridge.

Good

Relatively abundant and widespread in distribution. More common at the low gradient stations with slower flows.

Fair

Larger numbers can be found upstream of the Kankakee Dam.

Fair

Rock bass numbers were down in 2010, however, longterm collections show their number to be very cyclic and the 2012 fall sample indicates an increase since 2010. We found a very abundant population at Bird Park in 2012, with many larger fish collected from brush piles near deep water.

Very Good

Smallmouth bass are found throughout the river, although they are generally less numerous upstream of the Kankakee Dam where the channel gradient is lower. Momence is one exception to that rule, where faster currents support a large population. The locations with highest catch rates have been Momence, Kankakee, Davis Creek, Langham Island, and Warner Bridge. The Kankakee River should remain one of the premier smallmouth bass streams in Illinois.

Excellent

The DNR initiated a walleye stocking program in 2000, using brood stock collected from the Kankakee River. The stocking program has been very successful as anglers have reported catching more walleye and catch rates in routine surveys have also increased. The locations with the highest catch rates have been Aroma Park, Kankakee, Custer Park, and Wilmington. Current plans are to continue the stocking program to maintain the Kankakee River as an excellent walleye fishery.
There were 1 tournaments held on this waterbody in 2020.
| | |
| --- | --- |
| Species | Total Fish Caught |
| Channel Catfish | 12 |
| Crappie | 11 |
| Flathead Catfish | 11 |
| Largemouth Bass | 7 |
| Smallmouth Bass | 14 |
| Walleye | 12 |
Top 5 Largemouth Bass caught on this waterbody in 2020 tournaments:
1 4.19 lbs
2 4.12 lbs
3 3.81 lbs
Top 5 Bag Weights of Largemouth Bass caught on this waterbody in 2020 tournaments:
Multiple day tournaments are listed with * end date.
Interested in participating in one of these public tournaments? Contact us with tournament ID for more information.
2021 Approved or Pending Tournaments
Start Date
ID
Approval
Ramp Location
Bank/Boat
Hook/Bow
Max Boats
Species
Youth?
Open to Public?
July-02

*

July-11

18250
Approved
Bird Park (Bank Fishing Only)
boathook
50
Multiple Species
No
Yes