Fox River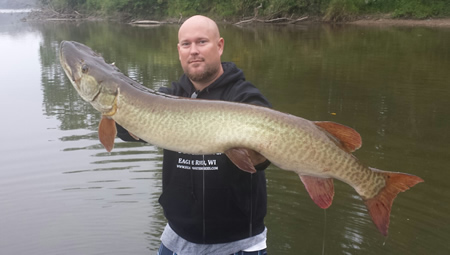 Fox River Fishing Guide
Description: The Fox River runs from its origin in Waukesha, Wisconsin to the confluence with the Illinois River in Ottawa. Flowing for a total of 115 miles in Illinois, the Fox River contains 13 dams and 15 major tributary streams. The upper river is very low gradient, increasing in slope downstream of Algonquin and continuing through a highly urbanized area where most of the dams are located. Downstream of Yorkville, the river is free flowing through ag-land to the Dayton Dam, 5 miles upstream of the Illinois River.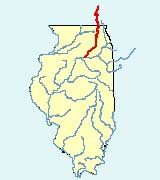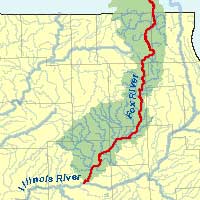 River Access: The Fox River has many public parks in the upper and middle sections. Although there are fewer public areas in the lower river, Silver Springs State Park near Plano offers good access. Boats can be used in many areas of the upper river, while the middle and lower sections are shallow and wadable through much of the year. The lower Fox River from Yorkville to Wedron has several popular canoe floats, which is a great way to access good fishing areas.
Status of the Sport Fishery: The Fox River has a very diverse sport fishery, including smallmouth and largemouth bass, channel catfish, bluegill, walleye, flathead catfish, and Muskie. Sportfish on the main stem appeared to have weathered the 2012 drought fairly well, although limited mortality of cool water species (walleye and pikes) was observed in mid-July in the shallow areas of Kane County.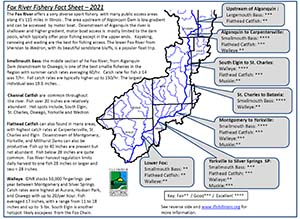 The Fox River is one of the most versatile bodies of water to fish in Illinois. There are over 100 public access points along this stretch for fishing. The most popular fishing areas have been at the following dams: Dayton, Yorkville, Montgomery, North Aurora, St. Charles, and McHenry. Spring and fall are the best times to catch most species of fish found in the Fox River.
Limits of walleyes are not uncommon at these times, especially in April and September, with many smallmouth bass taken right along with the walleye.
The farthest downstream dam at Dayton is located approximately 5.5 miles up from the confluence with the Illinois River. In addition to the tailwater area below the dam, another exceptional fishing spot is located here. Immediately below the hydroelectric power plant on the west side of the river just down from the dam has been a hot spot for walleye, white bass, crappie, and channel catfish.
Proceeding upstream, in addition to the fine tailwater fishery below the various dams, there are several well-known channel areas that provide fine angling opportunities. Channels and backwaters, in addition to spring and fall, can be exceptionally productive during the ice fishing season and at times of high water. Bluegill, crappie, and yellow bass are most commonly caught at these locations. The east channel just above Montgomery Dam has been noted as probably the best. This channel, at one time, was dug for the purpose of boat lockage; but the project was never completed and has provided a very popular place to catch fish and enjoy the outdoor setting.
Another good channel is an area known as Depot Pond. Located on the west side of the river, at the upper Batavia Dam, it also produces fine catches of panfish, especially crappie.
To the north, the farthest upstream dam is located 2.5 miles south of McHenry. Providing a tailwater fishery of the Fox Chain O'Lakes, this area provides more walleye than any spot on the river and is a prime area for channel catfish, white and yellow bass, and crappie. Flathead catfish have been caught below most Fox River dams, including McHenry Dam, where 20 to 30 pound fish are not uncommon. Northern pike are also taken, especially in April.
Species

Rank

Fish Status

Average

These species are in low abundance except in the upper low gradient areas, which are more lake-like. Bluegills were most abundant at Rt. 120 in McHenry and at Burton's Bridge, with many fish exceeding 6 inches in length.

Very Good

Channel catfish are common throughout the river. Fish over 20 inches are relatively abundant. Hot spots incllude, South Elgin, St. Charles, Oswego, Yorkville and Wedron.

Very Good

Flathead catfish can also be found in many areas, with the highest catch rates at Carpentersville, St. Charles and Elgin. Downstream of Montgomery, Yorkville, and Millhurst dams can also be productive. Fish below 28 inches are quite common. fox River harvest regulation limits daily harvest to one fish 28 inches or larger and two < 28 inches.

Good

Escapement from local lakes has led to establishment of a muskie fishery in the Fox River. They are found commonly throughout the middle river from Montgomery to Silver Springs, as well as in other selected areas. Creek mouths and areas below dams produce the most consistent numbers. Fall surveys at Montgomery yielded 3 muskie 34-39 inches long and several others were observed. One 38" muskie was collected at Silver Springs, a location which often produces multiple fish.

Excellent

The middle section of the Fox River, from Algonquin Dam downstream toOswego, is one of the best smallie fisheries in the region with summer catch rates averaging 60/hr. Catch rate for fish ≥ 14 was 7/hr. Fall catch rates are typically higher up to 150/hr. the largest individual was 19.6 inches.

Good

IDNR stocks 50,000 fingerlings per year between Montgomery and Silver Springs. Catch rates were highest at Aurora, Hudson Park, and Oswego with up to 20 per hour. Fish averaged 17 inches, with a range from 11 to 18 inches and up to 5 lbs. South Elgin is another hotspot, likely escapees from the Fox Chain.
There were 12 tournaments held on this waterbody in 2022.
| | |
| --- | --- |
| Species | Total Fish Caught |
| Channel Catfish | 63 |
| Flathead Catfish | 18 |
| Largemouth Bass | 151 |
| Smallmouth Bass | 15 |
Top 5 Largemouth Bass caught on this waterbody in 2022 tournaments:
1 4.76 lbs
2 4.28 lbs
3 3.82 lbs
4 3.66 lbs
5 3.62 lbs
Top 5 Total Tournament Weight of Largemouth Bass caught on this waterbody in 2022 tournaments:
| | |
| --- | --- |
| 1 | 83.48 lbs |
| 2 | 53.44 lbs |
| 3 | 53.06 lbs |
| 4 | 36.82 lbs |
| 5 | 36.82 lbs |