CARLYLE LAKE
Lake Information
County: Clinton
Acreage: 24580
Shoreline Length: 80 miles
Recreational Amenities
Boat Fishing? Unrestricted
Boat Ramps? Yes
Boat Rental? Yes
Skiing? Yes
Swimming? Yes
Picnicking? Yes
Camping? Yes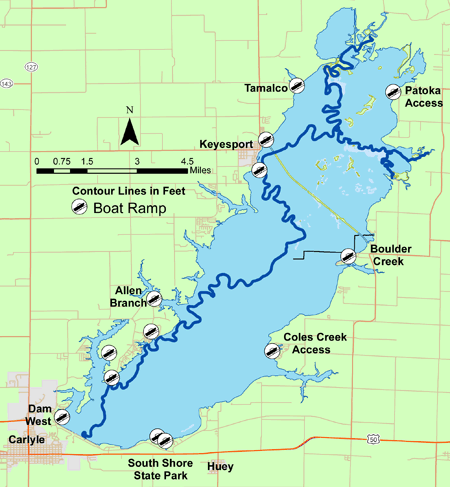 Click on area names for a more detailed map.
Allen Branch, Boulder Creek, Coles Creek, Dam West,
Keyesport, Patoka Access, South Shore, Tamalco Access
Maps are not intended for navigation.
There are no zebra mussels in this lake.
Lake Status Summary ( Full PDF Report )
Click here for a list of all reports.
Species

Rank

Fish Status

Poor

The Bluegill population at Carlyle remains in poor condition. Catch rates during the fall survey in 2015 were fairly consistent with prior years. Catch rates remain high, however the majority of these were small fish. There were only 2% of the stock-sized fish larger than 7 inches. These fish will provide limited angling opportunities in the upcoming year. Bluegill fishing should be fair to poor in Carlyle Lake in 2016.

Good

The channel catfish population remains good in Carlyle Lake. Catches of channel catfish in the fall population survey were down from the 5-year high observed in 2014, but should still provide good angling opportunities. There is still an abundance of large fish in the population that should provide good angling opportunities. Catfish fishing should be good in Carlyle Lake in 2016.

Excellent

The crappie population in Carlyle Lake remains in excellent condition. Thirty one percent of the stock-sized white crappie were over the minimum length limit of 10 inches. Only 10 percent of the black crappie were over 10 inches. However two thirds of the crappies collected during the fall survey were black crappie, the majority of which were just under the 10 inch limit. These fish should provide an abundance of quality fishing opportunity once they grow into the legal size. Crappie fishing should be good to excellent in 2016 at Carlyle Lake. 10 inch minimum length limit/15 fish per day creel.

Excellent

Flathead catfish are abundant and exhibit good reproduction and growth. Flatheads occur in all sizes ranging from fish weighing less than a pound to 50 lbs. or more.

Fair

Overall catch rates for largemouth bass showed some recovery from the 5-year low observed in 2014. Catches increased from 17/ hour in 2014 to a modest 27/ hour in 2015. These rates are an improvement, but still far short of the 65/ hour observed in 2013. Size structure of the fish that were collected remained good. Thirty percent of the stock-sized fish collected were over 15 inches and should provide good angling opportunity. Five percent of the stock-sized fish were over 18 inches, which should provide quality-sized fish to the fishery. Most of the bass were in excellent condition due to an abundant shad population. Young of the year bass were collected in greater numbers than recent years. Seven percent of the bass collected in 2015 were young of the year compared to less than 3% in 2014, indicating that a good spawn occurred. Hopefully these fish will provide a foundation for an improved largemouth bass population in the near future. Angling opportunities during 2016 should be fair for largemouth bass. 14" minimum length limit/6 fish per day creel.

Developing

The Dept. of Natural Resources is stocking redear sunfish. Redear sunfish feed heavily upon snails and tend to stay closer to the bottom than bluegill. They are large sunfish, often averaging one half to one pound in weight.

Good

White bass remain very abundant and exhibit a good population structure. The overall catch rate was 72 fish/hour of electrofishing, which is an increase from the 47 fish/ hour from 2014 and is consistent with results from the last several surveys. Multiple year classes were collected in 2015, including an abundance of young of the year, indicating a successful spawning effort. Twenty three percent of the stock is 12 inches or greater in length and should provide good fishing opportunity. The fish are in good condition; thirteen inch fish should average over a pound in weight. Look for good white bass fishing in 2016 as these fish continue to feed and grow.
Location: Carlyle Lake is located in southwestern Illinois, 50 miles east of St. Louis, principally in Clinton County.
Description: Carlyle Lake was completed by the U.S. Army Corps of Engineers in 1967 and was formed by damming the Kaskaskia River, the same stream that is the main tributary to Lake Shelbyville, upstream to the north. This lake has a maximum depth 35 feet and an average depth 11 feet.

If you enjoy catching catfish, mammoth Carlyle Lake, the largest man-made lake in the state, could be your Utopia. The 24,580-acre lake very well might be the finest channel cat fishery in Illinois, and they are eagerly sought by pole-and-line fishermen and trotliners alike. Virtually rectangular shaped, the lake is about 15 miles long and two to three miles wide. It is shallow, averaging about 11 feet in depth, and lies in flat, gently rolling country. Carlyle Lake is a typically open body of water and can soon kick up high, dangerous waves when strong winds occur. The lake is divided by the Burlington Northern Railroad tracks, which span the water from the towns of Keysport to Boulder. The upper portion is quite shallow, averaging about three feet deep, and consists mostly flooded timber and brush which was left standing when the lake filled. Besides the main Kaskaskia River Tributary, this area of the lake has a number of smaller creeks feeding it: Hurricane, Bear, Maggot, East Fork and North Fork. These streams offer excellent fishing opportunities. There are two public access areas for easy entry to this portion of the lake: Tamalco on the west and Patoka on the east. Below the railroad tracks, the lower two-thirds of the lake is quite open except for some timber left standing in three of the major bays.
History and Status of the Sport Fishery: Fish population surveys are conducted annually. Fish stocked annually include sauger, largemouth bass, and crappie.
Additional Lake Information: There is no outboard motor size limit. Eleven boat ramps are located at various recreational areas around the lake. In addition, there are three boat ramps on the river, one just above and two below the reservoir. Carlyle Lake offers several camping facilities as well as cottages. There are two bait shops located in town and three full-service marinas.
Contact Information: IDNR District BiologistFred Cronin 618-931-4217
There were 11 tournaments held on this waterbody in 2017.
| | |
| --- | --- |
| Species | Total Fish Caught |
| Crappie | 35 |
| Largemouth Bass | 108 |
| Smallmouth Buffalo | 23 |
| Spotted Bass | 19 |
Top 5 Largemouth Bass caught on this waterbody in 2017 tournaments:
1 5.25 lbs
2 4.66 lbs
3 3.92 lbs
4 3.50 lbs
5 3.31 lbs
Top 5 Bag Weights of Largemouth Bass caught on this waterbody in 2017 tournaments:
1 53.02 lbs
2 41.50 lbs
3 38.42 lbs
4 37.00 lbs
5 33.00 lbs
Interested in participating in one of these public tournaments? Contact us with tournament ID for more information.
2018 Approved or Pending Tournaments
Start Date
End Date


(if different from start)

ID
Approval
Ramp Location
Bank/Boat
Hook/Bow
Max Boats
Species
Open to Public?
September-30
8377
Approved
Keyesport
boathook
100
Largemouth Bass
Smallmouth Bass
Spotted Bass

No