SARA, LAKE
Lake Information
County: Effingham
Acreage: 614
Recreational Amenities
Boat Fishing? Unrestricted
Boat Ramps? Yes
Boat Rental? Yes
Skiing? Yes
Swimming? Yes
Picnicking? Yes
Camping? Yes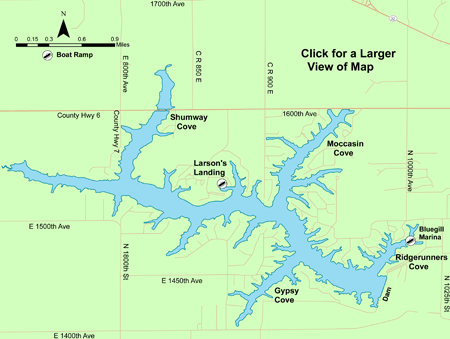 Click on area names for a more detailed map.
Gypsy Cove, Larson's Landing, Moccasin Cove, Ridgerunners Cove, Shumway Cove
Maps are not intended for navigation.
There are no zebra mussels in this lake.
Fishing Outlook ( Full PDF Report )
Click here for a list of all reports.
Species

Rank

Fish Status

Fair

The size structure of the bluegill population remains fair at best, with most of the population comprised of fish less than 7" in length. Body condition is poor and growth rates remain below average. Anglers can expect to catch an abundance of fish 5" – 7" in length.

Good

Catfish in Lake Sara should provide good fishing opportunities in the coming year. The channel catfish population is mostly comprised of older and larger fish. Natural recruitment is low keeping total numbers down, but growth rates and condition are good. The majority of fish in the population will range from 2 – 6 lbs. with larger individuals to 12 lbs.

Very Good

Both black and white crappie are present in Lake Sara, and the size structure of both populations improved significantly in the past year. Data collected from the annual population survey indicate 33% of the black crappie and 50% of the white crappie are greater than 10" in length. Body condition is good for white crappie and poor for black crappie. This lake should provide some excellent crappie fishing in the coming year. Site Regulation: White, black, or hybrid crappie: 25 fish limit (collectively)

Fair

The size structure of the bass population has changed very little over the last year, and the long-term trend shows a very stable population. The collection rate fell significantly to the lowest level in four years. Average body condition fell well below the target due in large part to the poor condition of bass in the 11" – 14" size class. The percentage of bass greater than 14" has changed very little over the last 5 years and remains well below optimal. In an attempt to improve the size structure of the population, regulations were changed on April 1 to a 15" – 18" protected slot limit. The population will be monitored closely over the next 2 - 3 years to evaluate the influence of this new regulation on the population. Bass fishing should remain unchanged in 2017 with bass below the slot ranging from 0.5 -1.5 lbs. and those exceeding 18" weighing 3.5 pounds or greater. Site Regulation: 6 fish daily limit, protected slot length limit of 15 – 18".

Good

White bass numbers improved in the 2015 survey. Three year classes were collected and their body condition was excellent. Angling opportunities for white bass should be good in 2016.
Location: Lake Sara is located in Effingham County approximately 5 miles southwest of Effingham, Illinois.
Description: Lake Sara was constructed in 1957, and it has a surface area of 614 acres, a maximum depth of 47 feet, and a mean depth of 19 feet. The lake has 38 miles of shoreline and a watershed of 7,560 acres.
History and Status of the Sport Fishery: The sport fish population in Lake Sara is comprised primarily of largemouth bass, bluegill, redear sunfish, white and black crappies, white bass, and channel catfish. Other common species include common carp and yellow bullheads. The fish population is surveyed annually.
Additional Lake Information: Two pole and line fishing only. Boat permits are required and can be purchased at either of Lake Sara's two Marinas, the Mach 1 gas station on Rt. 33 West, or Lake Sara Marine in Effingham.

Site Regulation:
Largemouth bass: 6 fish daily limit, protected slot length limit of 15 – 18"
White, black, or hybrid crappie: 25 fish limit (collectively)
Contact Information: Lake Sara Water Authority 217-868-2787IDNR Fisheries Biologist, Boone LaHood618-393-6732
There were 36 tournaments held on this waterbody in 2018.
| | |
| --- | --- |
| Species | Total Fish Caught |
| Crappie | 250 |
| Largemouth Bass | 1812 |
Top 5 Largemouth Bass caught on this waterbody in 2018 tournaments:
1 7.12 lbs
2 7.04 lbs
3 6.84 lbs
4 6.56 lbs
5 6.52 lbs
Top 5 Bag Weights of Largemouth Bass caught on this waterbody in 2018 tournaments:
| | |
| --- | --- |
| 1 | 364.13 lbs |
| 2 | 231.69 lbs |
| 3 | 186.43 lbs |
| 4 | 149.25 lbs |
| 5 | 148.56 lbs |