GILLESPIE NEW CITY LAKE
Lake Information
County: Macoupin
Acreage: 196
Average Depth: 10.93 feet
Shoreline Length: 8.9 miles
Recreational Amenities
Boat Fishing? Unrestricted
Boat Ramps? Yes
Boat Rental? No
Skiing? Yes
Swimming? Yes
Picnicking? Yes
Camping? Yes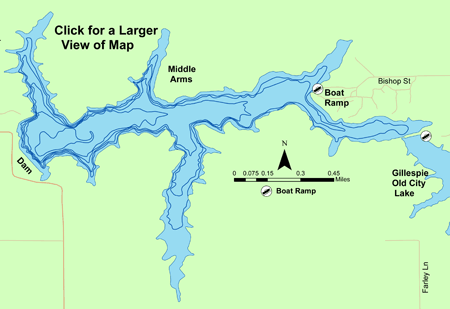 Click on area names for a more detailed map.
Dam, Middle, Ramp
Maps are not intended for navigation.
There are no zebra mussels in this lake.
Additional Lake Information: There is a General Store and Bait Shop located at the lake. During the Illinois Waterfowl Season fishing is only allowed between the hours of 10:00am and 2:00pm.
Contact Information: Gillespie Lake Office 618-362-6363IDNR Fisheries Biologist, Eric Ratcliff618-931-4217
There were 4 tournaments held on this waterbody in 2018.
| | |
| --- | --- |
| Species | Total Fish Caught |
| Largemouth Bass | 42 |
Top 5 Largemouth Bass caught on this waterbody in 2018 tournaments:
1 3.71 lbs
2 3.48 lbs
3 3.32 lbs
4 2.89 lbs
5 2.66 lbs
Top 5 Bag Weights of Largemouth Bass caught on this waterbody in 2018 tournaments:
1 56.10 lbs
2 21.25 lbs
3 17.30 lbs
4 3.13 lbs